Solving eCommerce Challenges with Conversational Commerce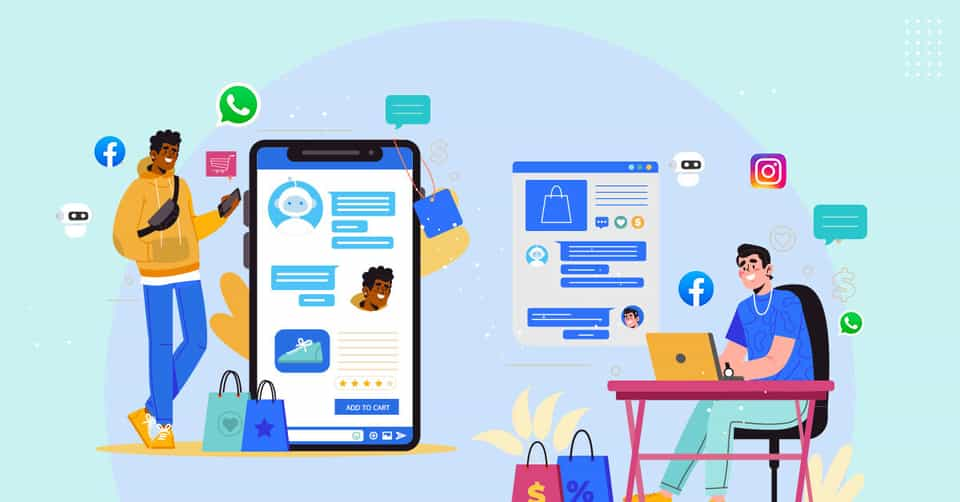 India is the 8th largest market for eCommerce and is expected to reach US$ 350 billion by 2030. The vast mobile and internet penetration and the emergence of the pandemic have further accelerated the adoption of digital retail. According to Shopify, more than 150 million people made their first purchases online in 2020. Huge customer demand, combined with the ease of selling online, has brought many brands to the industry. According to reports, there are 12–24 million eCommerce sites across the globe. The growth in the sector has stiffened the market, with increased competition and evolving customer expectations. It is becoming difficult for eCommerce brands to get a stronghold; that's where Conversational Commerce playing a vital role.
In simple terms, 'Conversational Commerce' refers to using conversational interfaces (online messaging, chatbots, voice assistants, etc.) to engage and enable commerce for customers. Conversations between customers and businesses on messaging platforms grew by more than 40% during the pandemic, indicating that "messaging" has become the preferred mode of communication for consumers to connect with brands for all their needs. With the help of AI chatbots, brands can be present across their customer's buyer journey to provide support, add value and nudge where necessary.

In this blog, we will focus on how Conversational Commerce can help eCommerce brands battle some of the biggest challenges that eCommerce brands are facing today.

Delivering omnichannel customer experience

Social media and messaging platforms have become important product discovery and research channels. B2B and B2C eCommerce companies can be available on all these critical customer touchpoints with an AI chatbot. Also, AI chatbots are advancing and are becoming equipped to retain context across channels, giving customers the freedom to pick up conversations from where they left on an entirely different platform. This way, Conversational Commerce is helping brands to offer an integrated, seamless customer experience across digital avenues.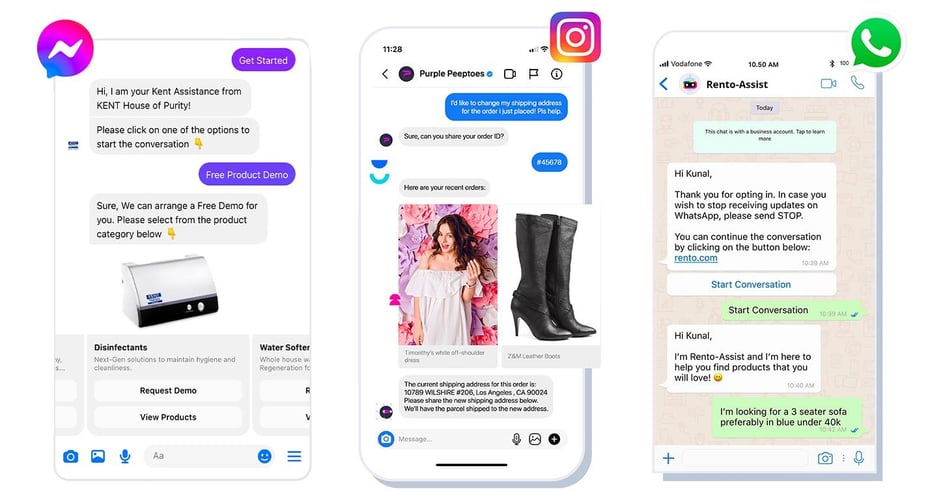 Improving critical KPIs
One factor missing in the online shopping experience is "Personalization." Conversational Commerce can help brands to bridge this gap; by assisting them in understanding the unique customer needs and delivering tailored solutions. An AI chatbot with an advanced AI recommendation engine can empower eCommerce brands to enable personalized delightful shopping experiences and achieve the growth metrics that matter the most.

Conversion Rates: A good conversion rate is essential for eCommerce brands to run a successful business.
An AI chatbot can engage customers in exciting conversations, help them find exactly what they are looking for, and answer their in moment-queries, thereby increasing the probability of conversions.
AI chatbots can emulate the in-store experience by acting as a personalized shopping assistant, understanding the purchase's intent, giving expert-like guidance, and sharing personalized product recommendations.
Average Order Value:
As customer acquisition costs continue rising, brands must focus on getting a higher average order value to generate profit. Conversational Commerce can help eCommerce business owners to improve their upsell and cross-sell opportunities. AI chatbots having access to real-time data can suggest the right add-ons at the right time in the customer's purchase journey based on their interest and buying history, leading to an increase in the average order value.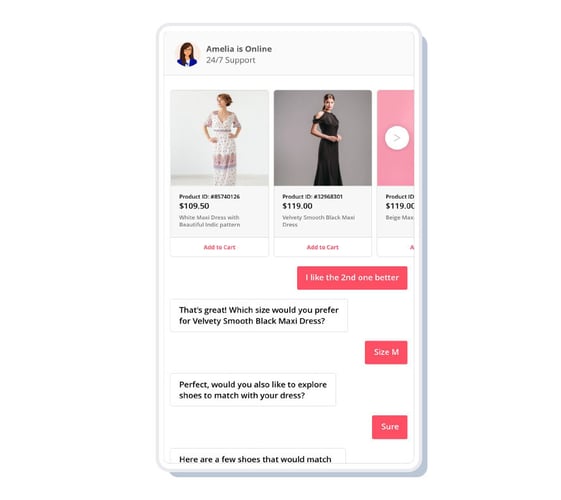 Know how TataCliq increased add-to-cart with Haptik

Cart Abandonment:
The cumbersome and time-consuming checkout process is one of the leading causes of cart abandonment in the eCommerce industry. AI chatbots can guide and encourage customers to initiate payments while on their purchase journeys, ensuring a simple, quick, and trouble-free payment experience.

AI chatbots can also help brands to retarget and recover abandoned carts by sending timely, relevant, personalized notifications.
Find out how brands can win back their abandoned carts with WhatsApp chatbots
Repeat Purchase Rate:

According to Bain & Company, a 5% increase in customer retention can lead to a 25% increase in profit, a testimony to how necessary it is for an eCommerce business to have returning customers for a sustainable business. With Conversational Commerce, eCommerce brands can provide on-demand support to their customers and offer excellent customer service. AI chatbots can easily handle the frequently asked customer questions like tracking orders, return orders, payments, managing refunds, etc., without having the customer wait for an agent, leading to improved satisfaction, loyalty, and repeat purchases.
Learn how Cars24 is driving 33% sales growth with Haptik

Getting more bang for their advertising efforts

Acquiring new customers is the biggest challenge for eCommerce brands in this competitive market. Social media platforms have become the primary channels to attract and engage customers, with $ 173m projected to be spent on social media ads in 2022. Each brand wants maximum returns from its digital advertising spending, and Conversational Commerce can be a catalyst in helping eCommerce brands achieve this objective. With the help of an AI chatbot, brands can run interactive Conversational Ads with Click-to-Message CTAs through which they can start a conversation with the prospects and answer all of their in-the-moment queries to generate leads instantly. eCommerce brands can further collect behavioral user insights with the help of an AI chatbot and use it to build targeted campaigns for their customers.


To sum up
The global spending on conversational channels will grow almost sevenfold by 2025, amounting to US$290 billion. Conversational Commerce is not only helping eCommerce brands improve their customer experience, engagement, and conversion but also bringing new online shoppers into the ecosystem, with 40% of global shoppers saying that chat was how they first started shopping online. Social platforms like Facebook, Instagram, Messenger, and WhatsApp are also introducing new features to push the Conversational Commerce revolution further and empower brands to deliver a satisfying shopping experience to their customers that yields results. It's not wrong to say a robust conversational commerce strategy can help eCommerce brands to unlock growth.
---
Interested in exploring Conversational Commerce solutions for your brand?