TRANSACT: WhatsApp Chatbot for Commerce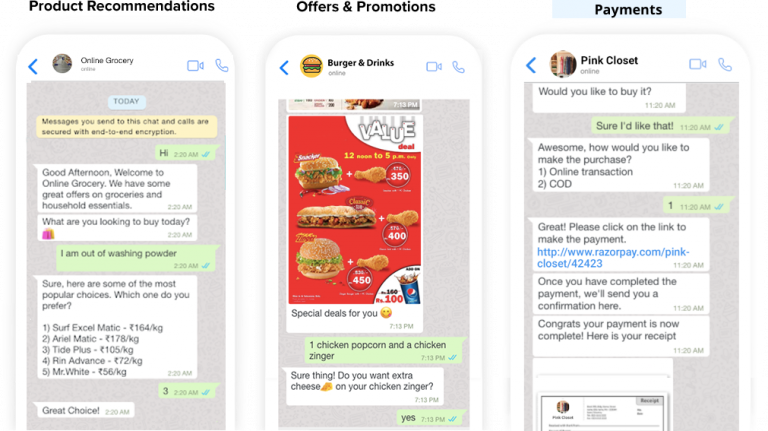 WhatsApp is a great medium for enabling conversational commerce. Equipped with an AI-powered recommendation engine, a WhatsApp chatbot serves as the perfect virtual sales agent – engaging a customer over chat, understanding their requirements, making relevant product and service recommendations, and ultimately nudging them towards a purchase.
In short, a WhatsApp chatbot replicates the experience of going to a store and talking to a helpful and knowledgeable sales clerk on your smartphone.
LEARN MORE: 3 Reasons Why WhatsApp is the Future of Commerce
The process of navigating through a menu, selecting an item, and placing the order, which would normally take multiple clicks as the user navigates through a website or app, is now seamlessly completed over the course of a conversation with the WhatsApp chatbot, which leads to a far better customer experience and maximizes the likelihood of a purchase.
The WhatsApp chatbot relies on contextual data gathered during the conversation (or retrieved from the business' database or CRM system) to get a better understanding of the customer's intent, and thus make relevant product recommendations. This contextual understanding also enables the WhatsApp chatbot to more effectively upsell or cross-sell related items/services.
With a WhatsApp chatbot you can facilitate end-to-end transactions over the app, either through a third-party payment gateway or through the upcoming peer-to-peer payments feature, WhatsApp Pay.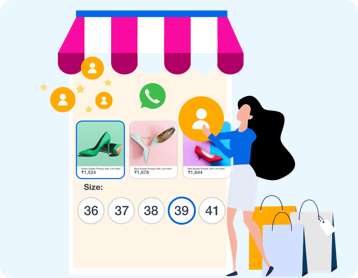 Watch the on-demand webinar to learn more about how brands can leverage WhatsApp as a Commerce platform