How IIFL Enhanced CX with Haptik's Omnichannel Solution
Overview
IIFL Holdings Limited is a leading diversified financial services company in India that caters to a large customer base of over four million individuals across various business segments. With a high influx of customer support queries, the company was looking for an effective and cost-efficient solution to enhance the overall customer experience by providing faster query resolution.
To achieve this objective, IIFL implemented a chatbot that efficiently addresses low-touch FAQs and significantly reduces the average wait time to just 45 seconds. This has helped the company to provide a superior customer experience by quickly resolving customer queries while also optimizing their operational costs.
30K+
Monthly Conversations
4/5
Average User Feedback
At IIFL Securities, we value our customers and believe in empowering them to get self-help at their convenience. Our ASK-IIFL (Chatbot & Customer Care), developed & supported by Haptik's chatbot, helped us cater to a large number of queries in real-time.
Challenge at Hand
Offering immediate query resolution and making customer support efficient were paramount for IIFL. The growing number of customer queries also put a strain on their call center operations, leading to higher operational costs. To address these challenges, IIFL sought to enhance their customer support by implementing a more effective solution.
Even low-touch, basic queries were subject to delays in receiving support.

The objective was to free up human agents from addressing low-touch queries, thereby enabling them to focus on resolving more complex queries.

The goal was to minimize the necessity of human intervention and decrease the potential for errors.
How Haptik Offered a Solution
IIFL collaborated with Haptik to create a chatbot capable of delivering prompt customer responses and enhancing overall customer experience. Through the implementation of Haptik's chatbots, IIFL could achieve faster and more precise query resolution, leading to an overall improvement in customer satisfaction. Moreover, this initiative allowed IIFL to minimize their dependence on call centers and optimize their operational expenses.
The primary purpose of the IIFL chatbot was to offer swift solutions to frequently asked questions such as Trading Report, Balance and Transfer, Brokerage Calculators, and more.

The chatbot led to a reduction in operational expenses.

In addition, the chatbot enhanced customer satisfaction.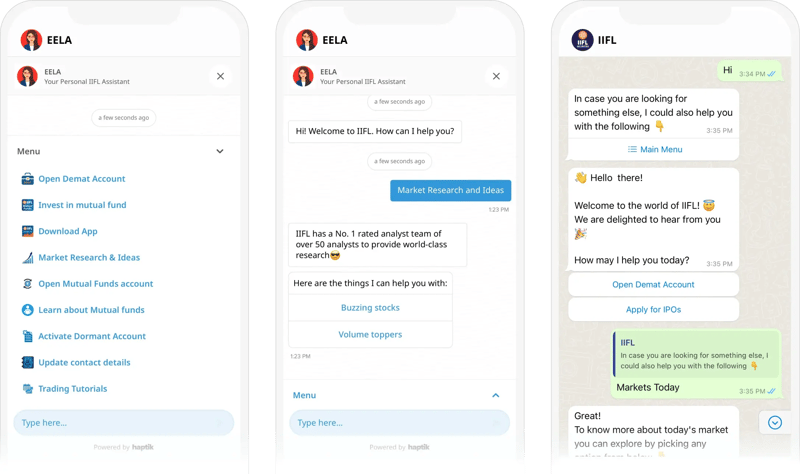 PLATFORM
Website, WhatsApp & App
USE-CASES
Customer Engagement
The Ask-IIFL IVA has significantly reduced our resolution time and is driving our customer support efforts from the front. We would like to thank Haptik for a good beginning, and look forward to working with them to further enhance customer experience.
Results
IIFL's vast customer base of over 4 million individuals has demonstrated a favorable response to Haptik's chatbot, utilizing it to gain insights on credit and investments, and receive prompt support. Through IIFL's App features, users can activate their accounts, receive comprehensive guidance to apply for loans, access trading reports, check their balance and transfer funds, use brokerage calculators, and obtain responses to general customer support queries. IIFL and Haptik continually monitor and evaluate user analytics to identify potential use cases to be integrated into their application.