2.4X
Increase in Add-to-Carts
4X
Higher Return On Ad Spent
20%
Increase in Average Order Value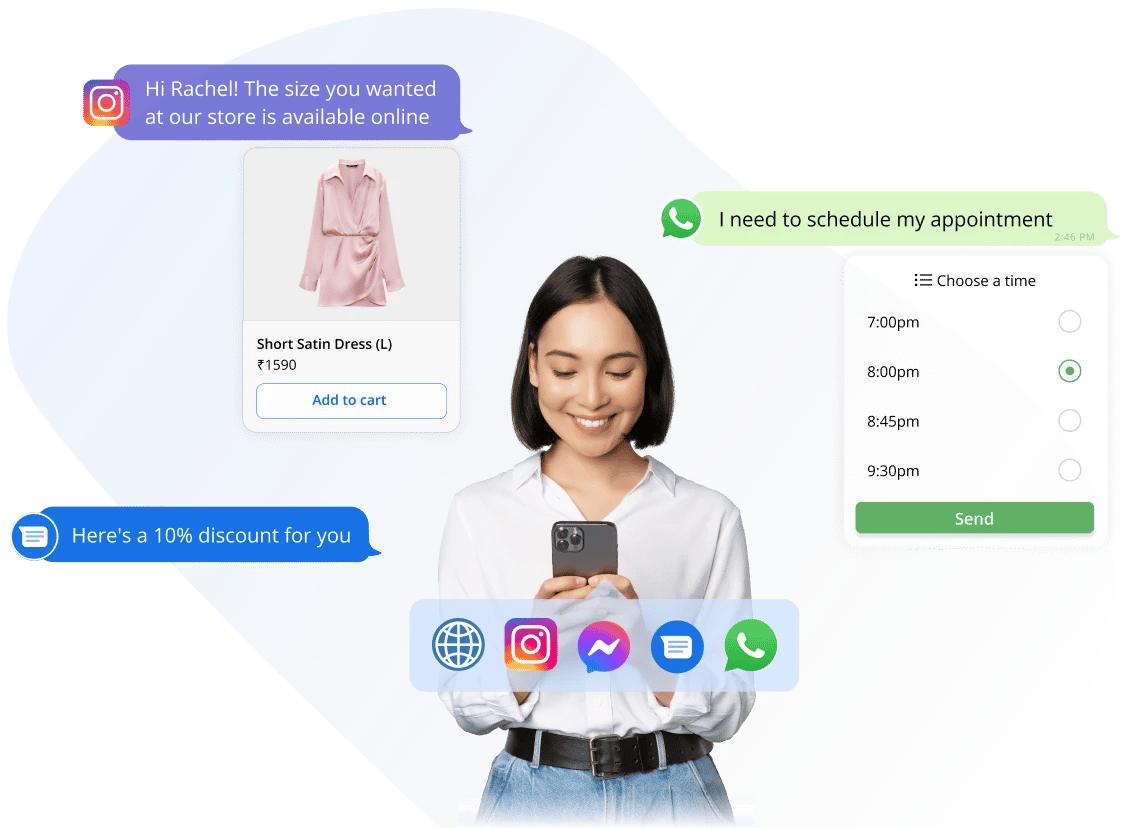 Truly Omnichannel Buying Experience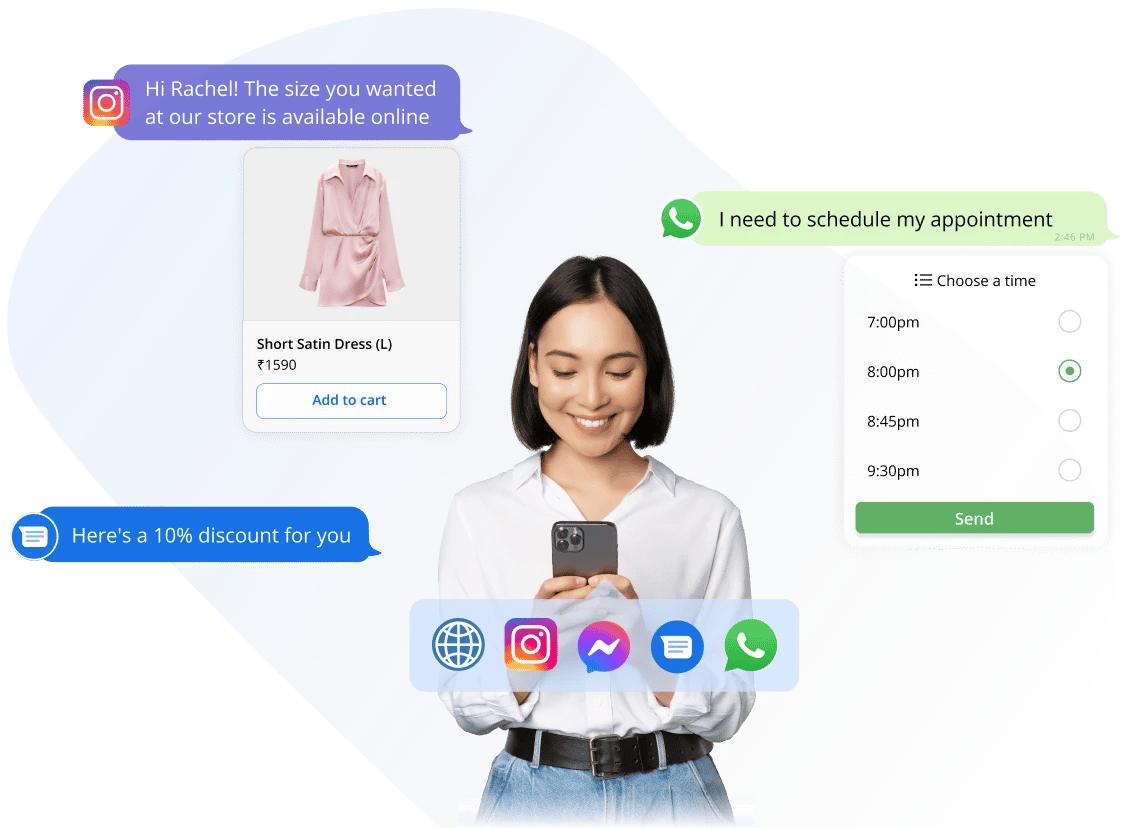 Deliver personalized shopping experiences on all messaging apps to accelerate purchase journeys in an omnichannel world.

Answer questions using ChatGPT, recommend products, and even facilitate purchases on any channel of your choice.

Achieve higher conversions, more upsells & cross-sells, reduction in cart abandonment and notable revenue growth.
Read More About Shopping Bots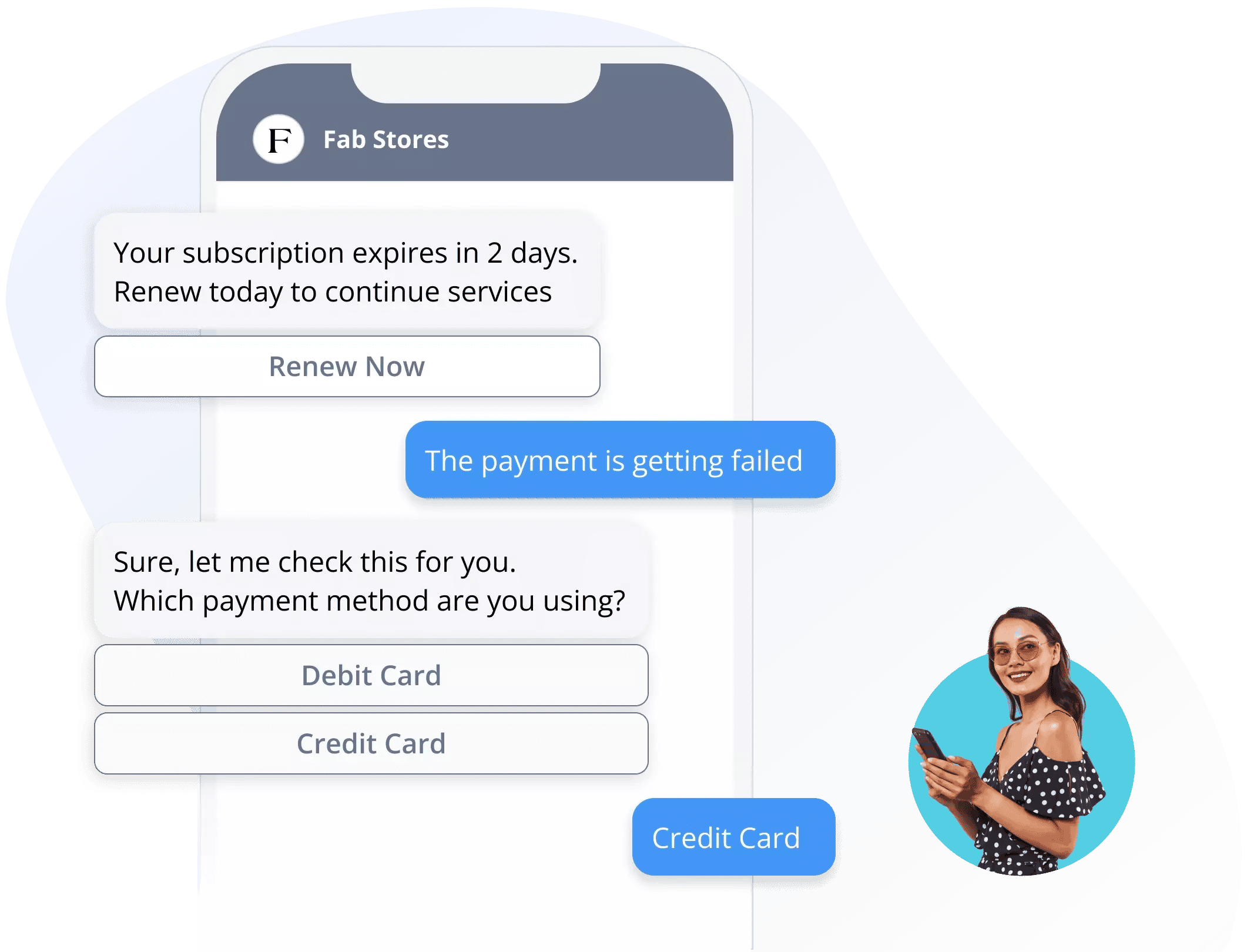 Smarter and Faster Customer Support on Every Channel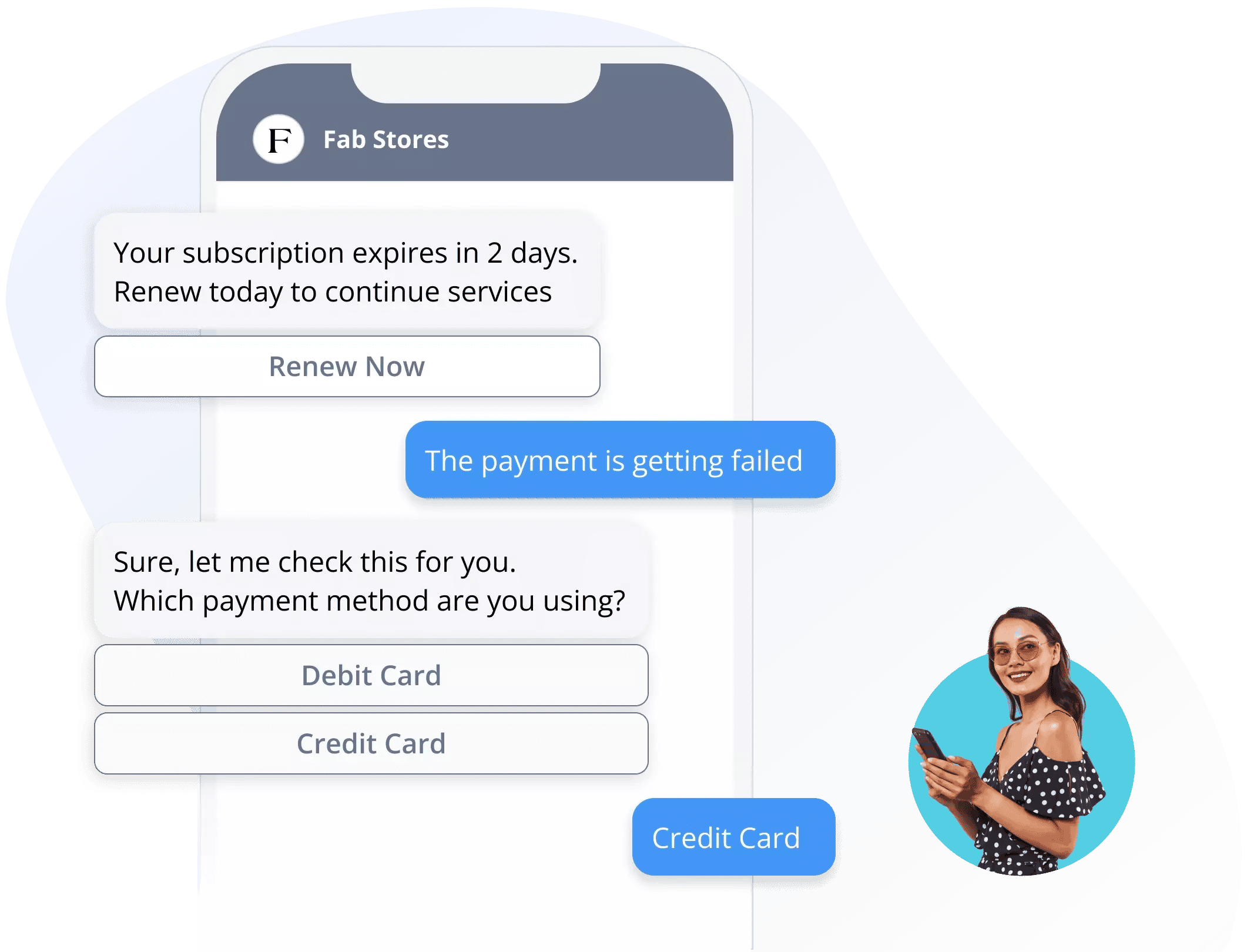 Provide delightful and personalized support by proactively solving your customers' problems on the channel of their choice.

Don't wait for your customers to reach out. Be proactive and inform them about order statuses, delays and updates.

Provide buying guides that help customers during and after the buying experience to avoid confusion and increase C-SAT.
Explore Customer Support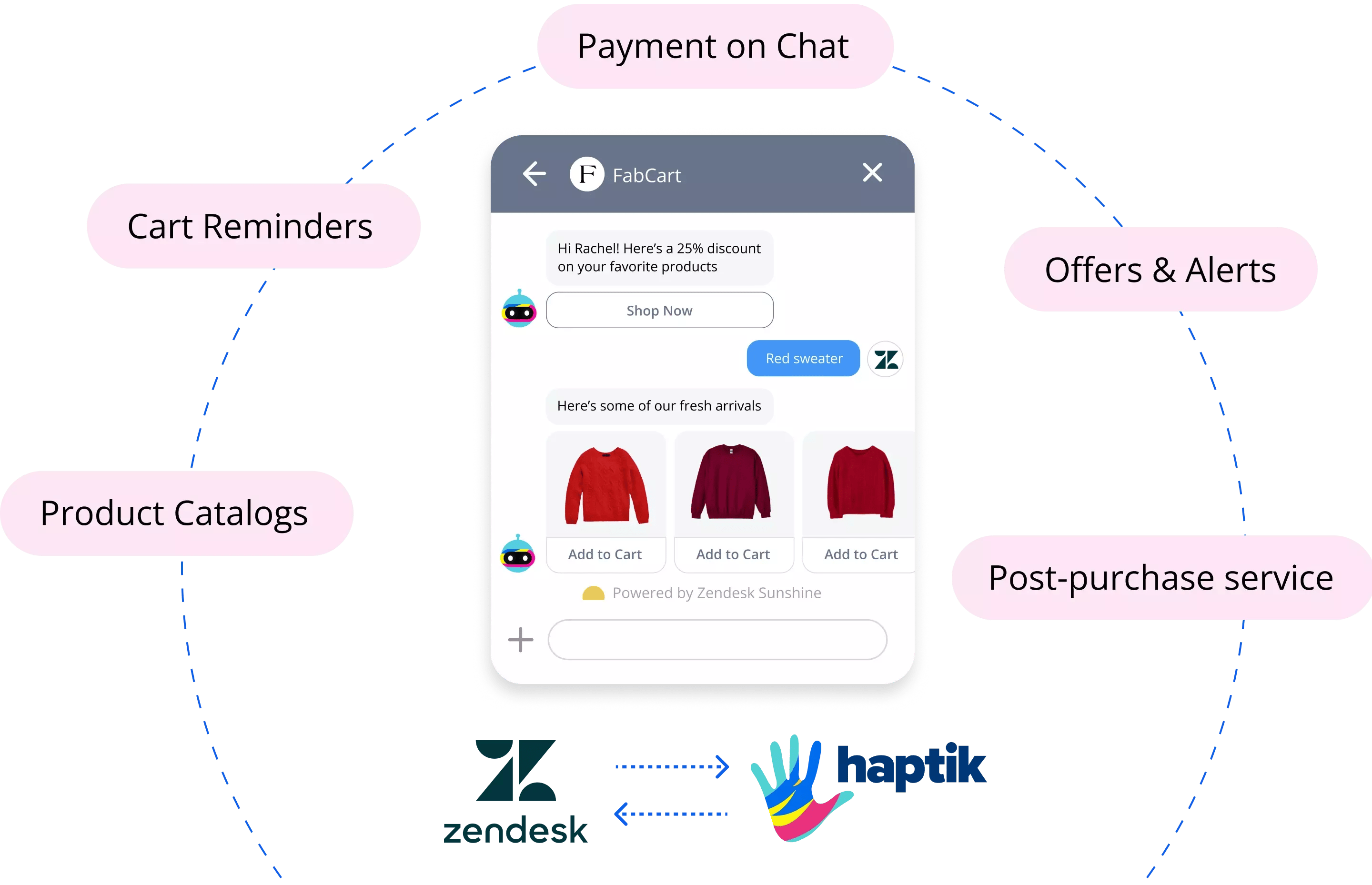 Supercharge Your Zendesk Workspace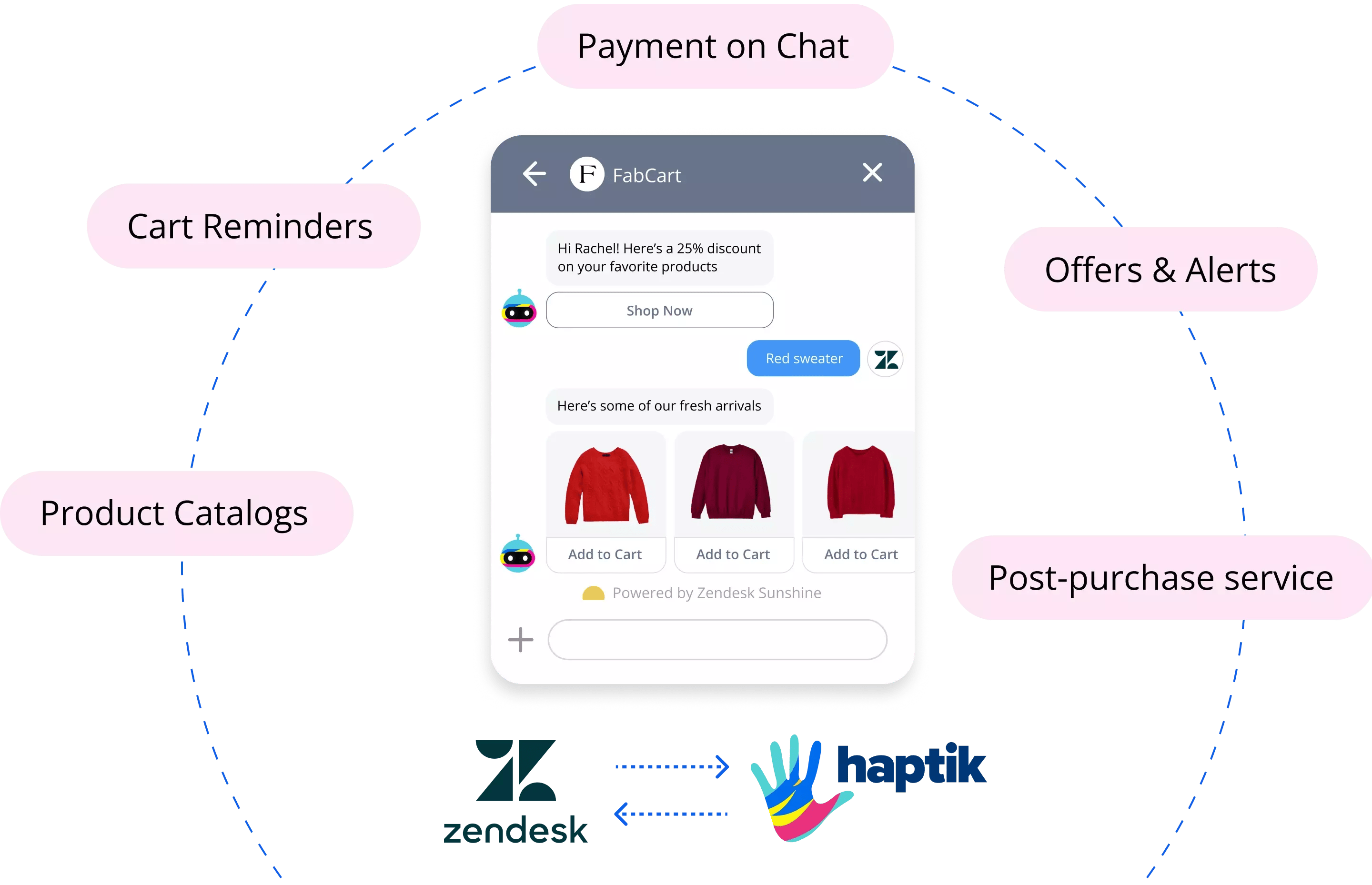 Haptik is deeply integrated in the Zendesk agent workspace resulting in a faster time to value enabling you to start your customer experience journey at a lightning fast speed.

Haptik's virtual sales assistant sits inside your Zendesk tech to enhance it while avoiding data silos and ensuring ease of use.

Enable a smooth commerce and support experience for your teams with seamless bot to agent hand-off, auto-ticket creation and ticket based personalization.
Get Integration Demo
Drive Revenue & Delight Your Customers
That's the deal you get with Haptik + Zendesk Sunshine Conversations
End-to-End Commerce Capabilities
Get access to Haptik's end-to-end commerce capabilities. Send tailored recommendations to users at the right time in their buying journey and boost your conversion rates.
Faster Funnel Conversions
Reduce drop-offs and improve funnel conversions by offering your customers a seamless omnichannel buying experience through a virtual sales assistant.
Reduction in Cart Abandonment
Reduce drops offs and recover abandoned carts by nudging users to complete the purchase by offering personalized discounts and product recommendations.
Higher Sales & Customer Satisfaction
Reach your revenue goals and increase your CSAT scores through meaningful conversational experiences that accelerate the purchase journey.