Paisabazaar Boosts Lead-Gen by 3X with WhatsApp
Overview
Paisabazaar, India's foremost consumer credit marketplace and premier free credit score platform, has solidified its position as an unrivaled leader in the lending industry. Leveraging cutting-edge technology and groundbreaking data innovations, coupled with an extensive network of over 60 strategic partnerships spanning the lending ecosystem, Paisabazaar delivers unparalleled lending solutions, setting the benchmark for excellence in the market. However, with increasing competition in the market, Paisabazaar needed to find new ways to connect with consumers. That's when Paisabazaar partnered with Haptik to build an outbound communication plan that expanded Paisabazaar's outreach exponentially.
3X
read rate as compared to SMS
50%
reduction in cost per lead
7-8M
users check their credit score on WhatsApp
Haptik's conversational AI platform has revolutionized the way we engage with our customers. The implementation of their AI-powered conversations on WhatsApp has brought a new level of convenience and personalization to our services. Our customers can now interact with us seamlessly through a messaging app they already use every day.
Challenge at Hand
With the lending industry in India becoming more competitive, Paisabazaar recognized the need to enhance its customer engagement strategies. To achieve higher conversion rates, it sought to explore more personalized and efficient ways to engage customers.
While traditional communication channels like SMS were losing their effectiveness, Paisabazaar was proactively seeking a solution to better connect with customers and address their needs on an individual level.

Paisabazaar wanted to offer a seamless experience of accessing pre-approved loans to its users.

It also aimed to guarantee prompt and efficient responses to every incoming lead.
How Haptik Offered a Solution
Recognizing the significance of sustained growth, Paisabazaar targeted marketing channels that could fuel its expansion. By venturing into platforms like WhatsApp, it aimed to attract new users and enhance the lending journey for its existing clients. Collaborating closely with Haptik, Paisabazaar crafted a comprehensive marketing plan that embraced the potential of AI. This strategic partnership empowers Paisabazaar to tap into the wide array of possibilities offered by WhatsApp and revolutionize the way they engage with its audience, ultimately fostering stronger customer relationships.
The pre-approved loan application process proved to be an effective method for generating leads on WhatsApp, as the user's phone number is readily available, and only a few extra pieces of information are required.

Additionally, Haptik's Proactive Messaging allowed Paisabazaar to send 360M WhatsApp notifications to users since July 2022, resulting in 100% improvement in conversions as compared to SMS.

Applicants are proactively approached by Paisabazaar to address any predictable issues they may have and/or provide support.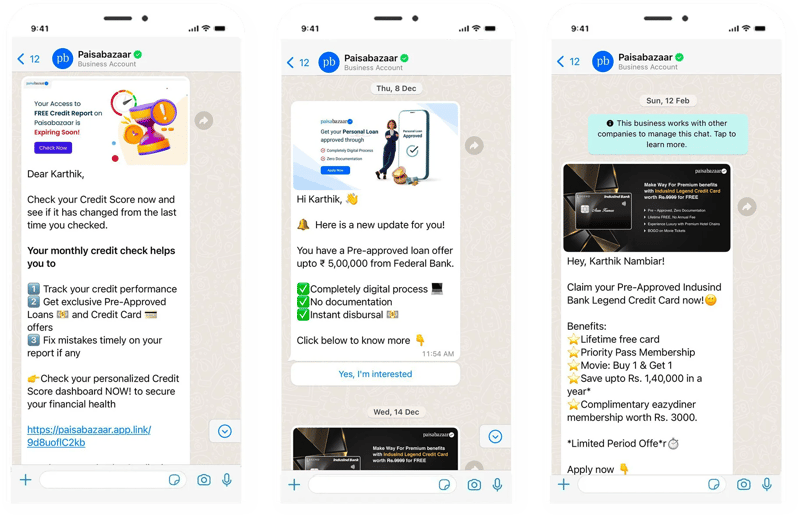 USE-CASES
Lead-Generation
Working with Haptik has been a pleasure. Their team has been highly professional, responsive, and collaborative throughout the entire process. They understood our unique requirements and tailored their solutions to meet our specific needs. Their expertise in conversational AI and customer engagement has truly transformed our business.
Results
Facing intense competition in the lending industry, Paisabazaar sought innovative ways to engage with consumers and boost conversion rates. Through this collaboration with Haptik, Paisabazaar experienced a remarkable 100% increase in conversion rates compared to traditional SMS-based communication.

Today, over 8 million users benefit from Paisabazaar's WhatsApp notifications every month, enjoying the convenience and efficiency it offers. This successful partnership between Paisabazaar and Haptik exemplifies the power of conversational interfaces in expanding consumer outreach, enhancing customer engagement, and driving business growth in the digital age.