Key Features of WhatsApp Marketing Software
Automated Broadcast Messaging
Using WhatsApp marketing software, businesses can send pre-written messages to a large number of WhatsApp users at once, without manual input. This enables efficient business communication with the target audience, leading to increased customer engagement and conversions.
WhatsApp-led Business Automation
Categorize shoppers based on behavior, location, demographics, psychographics, and first-time & loyal buyers, with more personalized communication, target specific customer groups, and curate tailored campaigns to drive customer engagement and achieve marketing goals.
Robust Analytics & Reporting
Leverage Click-to-Haptik Analytics to gain valuable insights into customer behavior through one-to-one conversations. Gain a deeper understanding of data like top traffic sources, campaign performance, user journey drop-offs, and top-selling products to optimize marketing efforts & enhance engagement strategies.
Out-of-the-box Integrations
Streamline user journey by connecting with the existing systems and unifying all data across marketing, sales, support & engagement teams. The Integrations Ecosystem allows seamless integration with support & agent platforms, social channels, payment gateways & any software with APIs for an enriched CX.
How to Choose the Right WhatsApp Marketing Software: The Ultimate Checklist
Choosing the right WhatsApp marketing software is crucial for businesses looking to efficiently reach their target audience. It requires considering factors such as features, pricing, ease of use, customer support, and security. A well-suited software can help businesses create, automate, and analyze WhatsApp marketing campaigns for better results. We have created a comprehensive checklist to aid brands in choosing the best WhatsApp marketing software for optimal outcomes.
Define WhatsApp marketing goals for your business
The initial step to follow is to brainstorm your business' WhatsApp Marketing goals and accordingly choose the most suitable tool. Selecting software prior to setting goals can be detrimental. Take time to define business expectations and outcomes.
Shortlist prospective WhatsApp marketing software
To shortlist credible business service providers for WhatsApp marketing aligned with business goals, explore online product listing directories like G2, Capterra, and more. Seek references, and reviews from acquaintances and research them thoroughly before finalizing.
Assess functionalities of WhatsApp marketing tool
Research each shortlisted WhatsApp marketing software feature & functionality to ensure they align with your business goals. Book demos to assess capabilities such as WhatsApp Broadcasting, Live Chat, and Chatbot Integrations with your existing sales & marketing platforms.
Evaluate vendor's reputation and industry knowledge
Before sealing a WhatsApp Marketing software deal, conduct thorough research to assess the credibility of the would-be solution partner. Check social media presence, online reviews, and customer lists to evaluate reputation, shortcomings, and capabilities.
Prioritize smooth onboarding for optimal results
Evaluate a WhatsApp marketing service provider's post-sales onboarding experience, including training and support for successful implementation. Assess their responsiveness to inquiries and willingness to assist with any issues for a smooth transition.
Check integration feasibility with other marketing tools
Verify if the WhatsApp marketing software integrates with other business software solutions. For instance, Haptik offers integration with popular CRM and eCommerce portals like Shopify, Salesforce, and more, to create a comprehensive ecosystem on WhatsApp.
Proven Success Stories of WhatsApp Marketing Software with Haptik
Discover the potential of WhatsApp Marketing Software in driving lead generation, sales, and customer acquisition through Haptik's customer testimonials and case studies.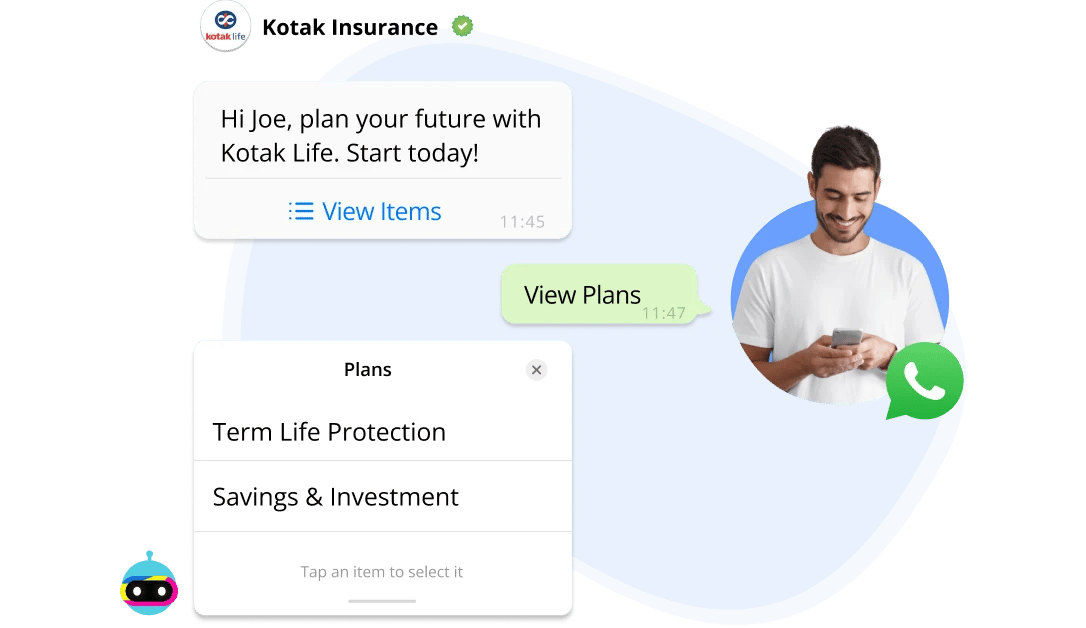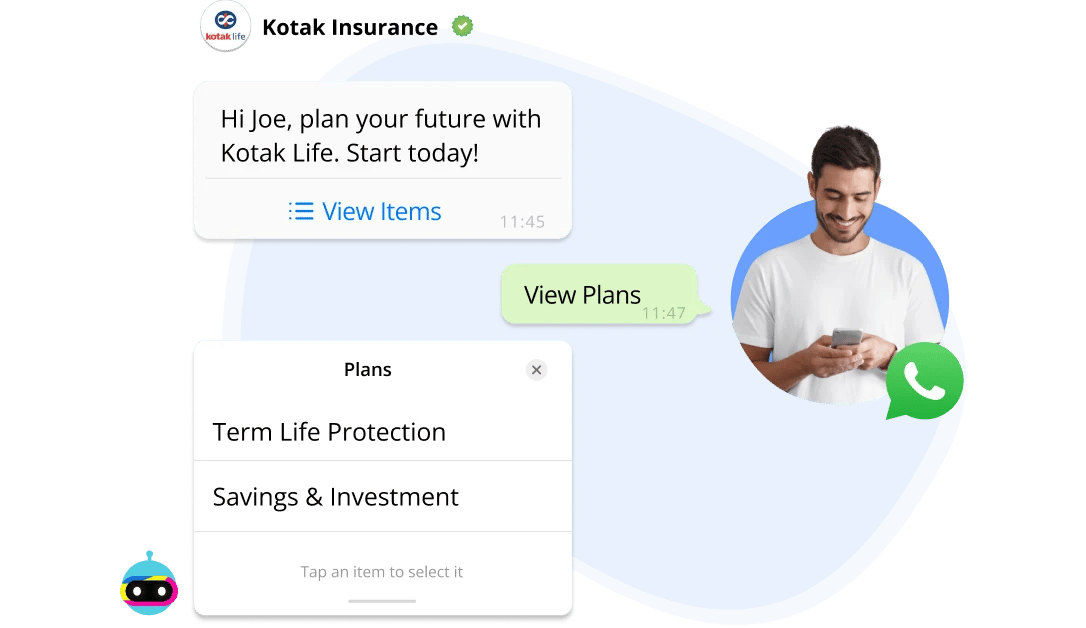 Kotak Life Insurance, a rapidly expanding company, aimed to leverage WhatsApp to offer customers personalized insurance services with comprehensive policy information, Q&A, quotes, and direct policy purchase options effortlessly.

To meet these expectations, Kotak Life Insurance partnered with Haptik and built Kaya, a Virtual Assistant, an omnichannel chat solution that boosts customer experience, generates leads, and offers 24/7 support. The platform facilitates renewal reminders, seamless payments, and claim submissions to cater to all customer segments, brokers, and agents. With Kaya, Kotak Life saw a 500x increase in user engagement.
Read the Full Case Study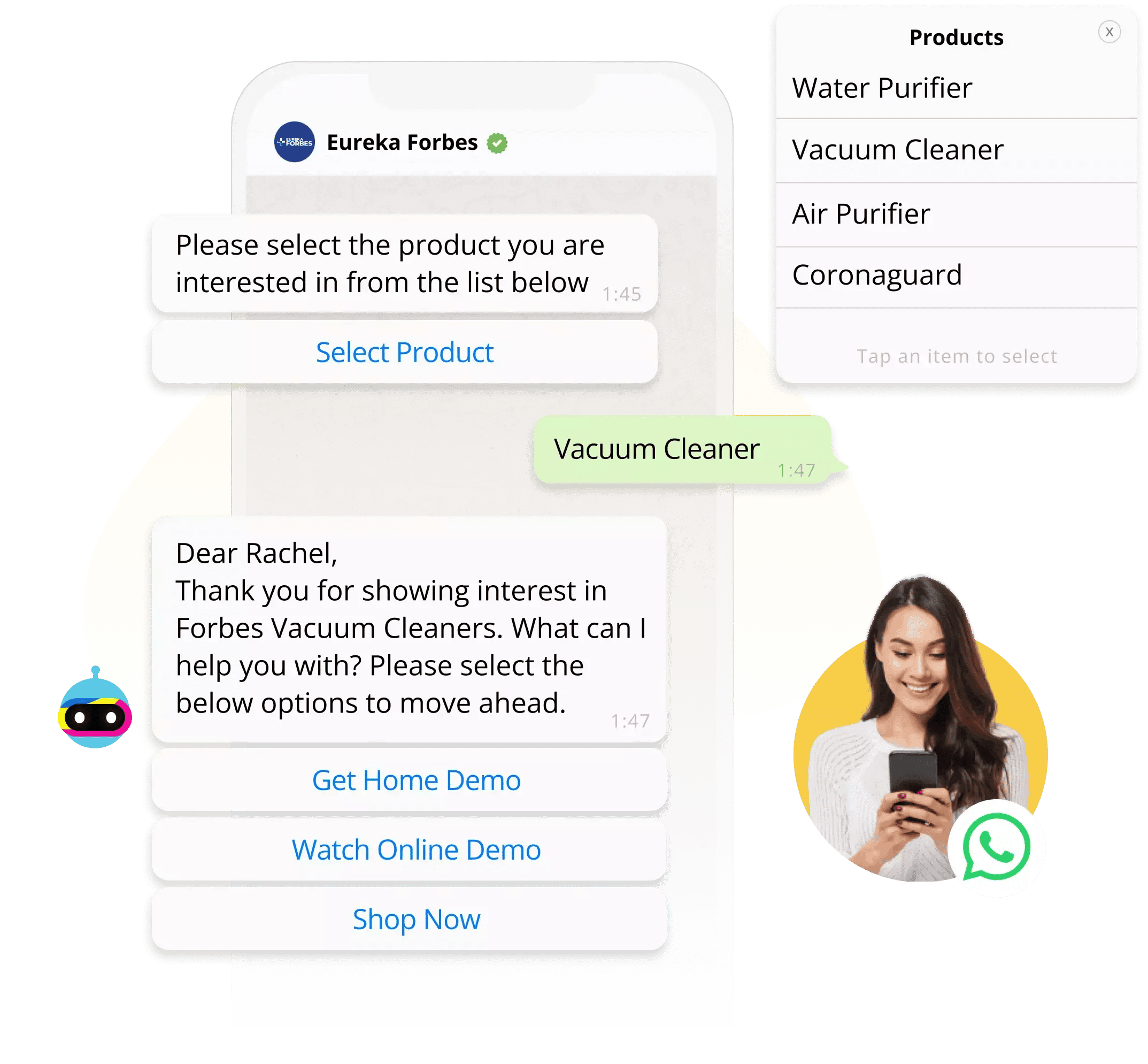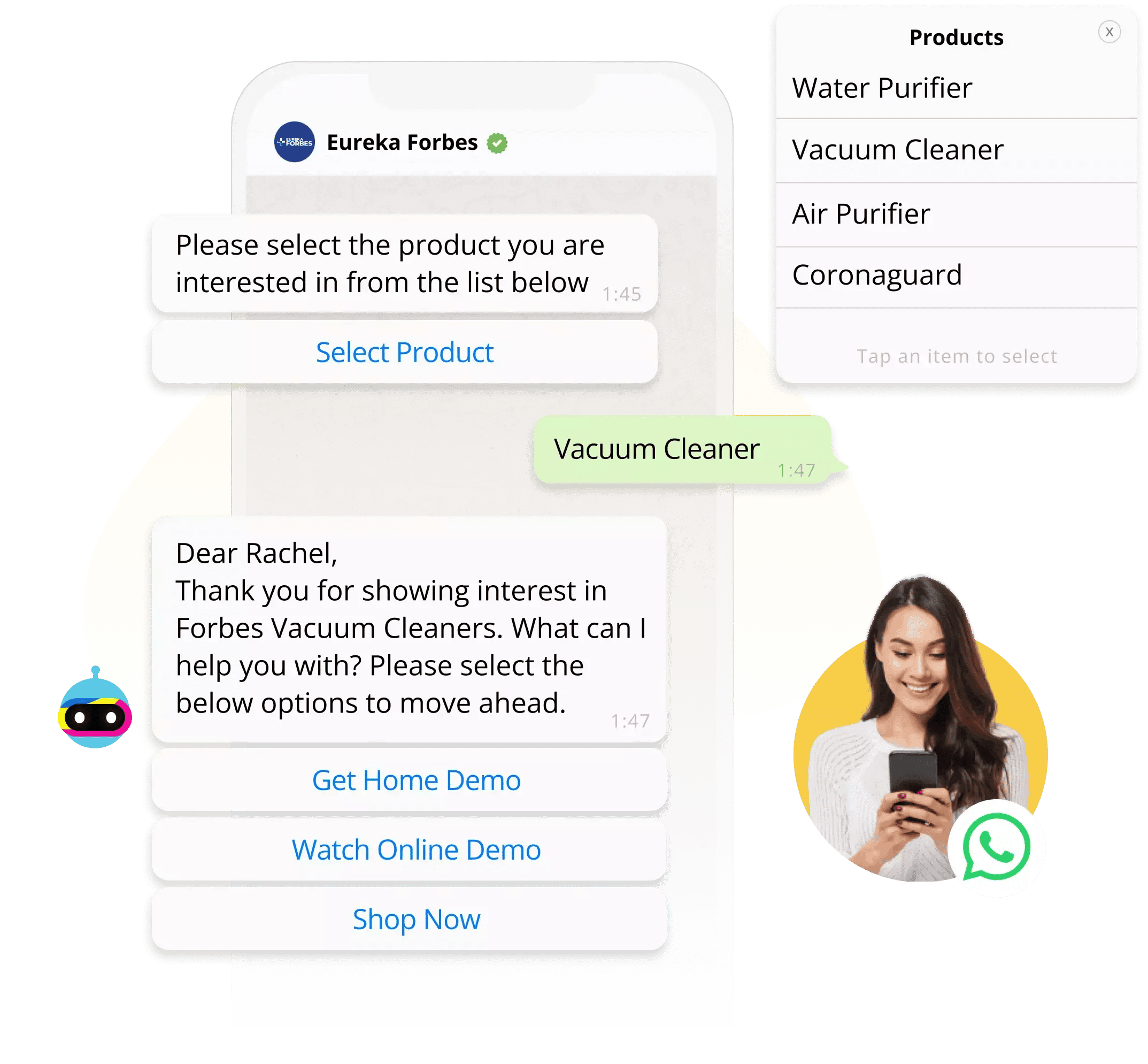 Eureka Forbes, a well-known water purifier brand in India, sought to modernize its customer service with an AI-powered conversational support solution to improve query resolution, enrich customer engagement, reduce response time, lower call-center dependencies, and save costs.

Eureka Forbes collaborated with Haptik to develop a WhatsApp chatbot that meets these objectives. The chatbot accurately comprehends customer intent and transfers complex issues to live agents, reducing customer churn and ensuring timely query resolution while maintaining a consistent brand experience, resulting in handling 1.5 million conversations.
Read the Full Case Study
Conclusion
Effective communication with your target audience and building strong customer relationships is crucial in today's competitive business environment. WhatsApp Marketing Software can help businesses achieve these goals by driving lead generation, sales, and customer acquisition. By selecting the right software and integrating WhatsApp into their overall marketing strategy, brands can gain a competitive edge and boost growth. With its capacity for targeted, data-driven campaigns and seamless customer experiences,
WhatsApp marketing
solutions can improve customer engagement, satisfaction, and conversions, delivering results that drive business success.
Read Next: WhatsApp Marketing: A Guide to More Conversions & Higher Revenue