How Chatbots are Poised to Transform Customer Service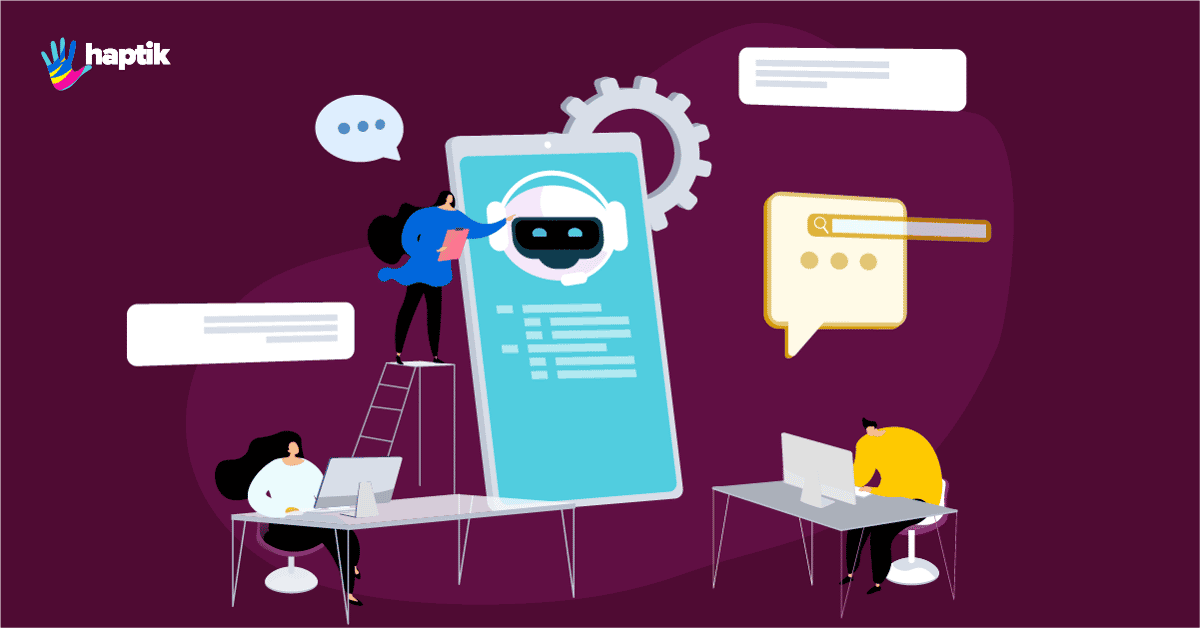 With increasing choices and options, customer retention has become a critical factor for business growth. Customer service is proving to be the catalyst in this endeavor. Fulfilling customer needs is the soul of customer service as customer expectations are evolving every day. More than 76% of customers expect companies to anticipate and understand their needs and expectations. And the businesses must respond quickly and decisively to meet these expectations.
With the help of underlying Artificial Intelligence (AI) capabilities, customer service chatbots are becoming the tools that enable organizations to understand evolving customer requirements and efficiently respond to them. A salesforce study found that organizations with higher customer satisfaction are investing more in AI capabilities. By adopting these intelligent capabilities and using chatbots to lead the customer experience efforts, chatbots are transforming the way businesses approach customer service challenges.
Why Is Customer Experience So Crucial?
Enhanced customer experience brings exceptional results for businesses. A positive experience enhances the brand reputation and impacts the revenue of the company. Not surprisingly, 86% of customers prefer to pay more if they experience better customer service. Increased customer satisfaction results in better customer retention and more cross-selling and up-selling opportunities.
Businesses realize that customer experience is crucial even at the strategic level. A Gartner study revealed that 81% of companies thought they would mostly or entirely rely on customer experience as a competitive strategy. As 96% of customers worldwide identify customer service as the deciding factor for brand loyalty, the business focus on customer experience (CX) is still increasing. With over 76% of customers believing that it's easy to switch brands for a better customer experience, businesses aim to address these areas effectively.
Customers punish businesses when they have unsatisfactory experiences. American Express's study revealed that more than one-third of customers consider switching companies after just one poor experience. Even more crucial fact is that 91% of unhappy customers don't even complain about their bad experiences before switching to competitors. To compound the problem, 39% of customers will not do business with the company for the next two years. That makes it critical for companies to ensure that they get the experience equation right, every time.
Check out: 4 Ecommerce Customer Experience Trends for 2021 (and How AI Can Help)
Understanding Customer Expectations
87% of organizations agree that traditional experiences no longer delight customers. Traditional practices, methods, and tools are no longer effective as they used to be. That is why marketers' function across the geographic and the industry spectrum revolves around providing meaningful, valuable, and delightful experience by understanding new customer expectations.
Customers want immediate access to information and responsive service. As the mobility and power of mobile devices increase, customers are getting used to such on-demand access. If your customer service functions don't provide instant access, it's very likely that your customers will be left dissatisfied.

The increased mobility, changing lifestyle, and work environment have also removed geographic and time constraints. Customers are getting used to interacting with businesses from anywhere at any time. If they can purchase your product this way, they also similarly expect your service.

Customers are no longer satisfied with generic information. They want businesses to know them as humans and share personalized information and experiences.

Customers also want the freedom to utilize any communication channel they find comfortable and convenient. They also want to be able to switch between these channels seamlessly, without a break in conversations. They also want a consistent omnichannel experience, no matter what their choice is.

Customers are increasingly ready to use self-service facilities to solve their queries and needs. However, they also want an option to connect to chat agents immediately if the need arises. Human support can be instrumental in many cases, where the customer situation is unique.
While the expectations are varied, the response also needs to be cohesive and comprehensive. Businesses must ensure that all dimensions of customer experiences get addressed while also ensuring operational efficiencies. AI-powered customer service chatbots are emerging as the prime choice to fulfill such multifaceted requirements while keeping the complex backend processes hidden from the customers.
How do Chatbots Work?
Conversational interfaces are not new. From the time messenger applications came into existence, people started using them increasingly. Such messengers are less intrusive than phones and allow quick and focused conversations with a rich exchange of media.
Chatbots replace the humans at one end of such conversations. Fundamentally, they are conversational interfaces, just like any other messenger application. Powered by Machine Learning (ML) and Artificial Intelligence (AI) capabilities, they allow customers to access customer service using natural conversation patterns, just like a conversation between two humans. For customers, the experience doesn't change much.
Chatbots enable Human-To-Machine (H2M) interactions that utilize chat, messaging, voice, or any other medium for interactions. The rich interactions leverage the power of advanced technologies while enabling more meaningful and natural conversations.
Natural Language Processing (NLP) algorithms are considered to be the heart of chatbots. Their primary role is to understand what the customer is saying and then perform actions based on the intent. The steps can be simple ones like fetching certain information from databases or directing the customers to appropriate resources, like a FAQ page on your website that answers the exact question being asked. But the powerful algorithms and backend implementation allow for more advanced scenarios, too, like booking a flight ticket or a hotel room.
Chatbots can seamlessly integrate with many other systems to enable actions or information access to customer queries or instructions. The customer doesn't need to be even aware of these disparate systems. Such systems may include enterprise databases and applications or third-party APIs.
How Are Customer Service Chatbots Boosting Service Transformation?
Given their capabilities, customer service chatbots enable organizations to efficiently implement and scale customer service initiatives without higher investments. Organizations can use them to cater to complex use cases and a variety of customer journeys. You can start with primary use cases first, and progress addressing more complex problems relatively in no time.
No Capacity Constraints
If organizations use human agents to facilitate customer interactions, they face capacity constraints with little growth. Scaling workforce capacity in response to growth takes time. Even if you have a sufficient number of agents, one agent can serve only one customer at a time. This constraint results in a wait time, at least for a few customers. Balancing the number of agents versus the volume of customer calls is a tricky exercise.
Chatbots don't have such capacity constraints. A single chatbot can connect to unlimited customers, and it becomes a personal virtual assistant for each customer. By eliminating wait times, the chatbots increase customer satisfaction.
Quicker Resolutions
Whether you are using IVR or websites to facilitate customer service, your customers need to traverse through an elaborate navigation system. With IVRs, consumers need to choose appropriate options or enter required data, like card details, account numbers, birth or registration dates. They either need to click through menus and links or scroll through sufficiently large search results on the web.
Chatbots as conversational interfaces that eliminate the need to traverse through the complete web search results, mobile app navigations, or choose unending options from an IVR system. Customers can directly get to the point. Even when the customers need to input data through the chat interface or voice input, it comparatively becomes more comfortable than the other choices.
Since bots can also supply the required information, they can guide the customers through the journey optimally in real-time. Without depending on any manual intervention, they can take the next steps, including sharing required information, performing specific actions, or even transferring the conversation to a different channel or a human agent. They are thus reducing the time for a customer to get appropriate answers to their queries.
Case Study: How we Stepped up Customer Service with 'Fixie' for Onsitego and help them achieve 70% automation rate
Omnichannel Experience
As consumer lifestyle changes, communication is becoming asynchronous. Unless there is an emergency, customer queries may be spread across time and channels of communications. Let us suppose while browsing the internet, a customer visits your website, gets curious about your services or products, and uses the live chat (with a bot or human) functionality to post a quick question. Sometimes later, she remembers a question but can't use the chat right now, so instead, she sends a quick email to you.
If your reply email doesn't pick up from where the customer left the website's conversation, it hampers the experience. The same negative experience may occur when a bot transfers the call to a human agent, but the customer must explain the entire conversation to the human agent again.
You can deploy customer service chatbots on multiple channels, including mobile apps, collaboration apps like Facebook Messenger & WhatsApp, and the web. So, the customers can use any convenient touchpoint across their journey. They act as one customer service agent that's available for each customer whenever required.
Chatbots can preserve information across channels and even when it transfers the conversation to a live agent, customers don't have to explain their issues repetitively. Such availability of information across the channels helps businesses provide a consistent omnichannel experience to their customers. Such a consistent experience saves time for customers, enhances brand image, and increases customer engagement and loyalty.
Anticipate Customer Need
Through integration with multiple channels, chatbots can get deeper insights into customer needs and issues. The supporting Machine Learning (ML) algorithms can augment these insights with the learnings analyzed from similar insights. These insights help chatbots proactively understand the customers and provide contextual help. More than 62% of customers, including business buyers, expect companies to anticipate their needs and respond in a personalized manner.
Customers today interact with businesses through a large variety of channels. While web and mobile apps are the standard ones, sensors, embedded devices, and wearables are increasing rapidly. Apart from serving customer needs, businesses have a real opportunity to use such a large amount of generated data to contextualize customer service.
When a consumer feels that businesses are attempting to anticipate their needs and are making efforts to cater to them, it results in customer loyalty. Through customer service interactions that help companies gain insights, businesses can create an engaged and loyal customer base that consistently grows.
Personalized Connection with Customers
Traditionally, business growth was a result of how well the business and customers connected. While the geographies expanded, this connection became faceless and impersonal. However, the human mindset remains the same. It still values a personal, humane relationship. Ironically, Chatbots can be instrumental in establishing this personal connection by serving as a dedicated customer service representative. By the end of 2021, more than 50% of companies will increase their spending on bots and chatbots. Those who offer personalization will be competitively better than their peers with an approximation of 15% more customer engagement.
Customer service chatbots, as virtual assistants, allow for a personalized experience for each customer. Instead of providing generic responses and help, the bot can identify specific, relevant information for the customers. Such a personalized experience is not restricted to a single conversation. Every time the customer contacts the organization, the bot can continue the conversation by picking up older communication threads.
All the factors contribute as more than 45% of customers across the industry & geographical spectrum prefer virtual agents as the primary communication channel. Businesses are taking cognizance of this fact. As a result, the use of AI-powered chatbots was estimated to grow by 143% between 2019 and 2021.
Check out our new handbook on Customer Service Chatbots: Swift, Seamless AI-Powered Support
To Sum Up
CX improvements should take an integrated approach that touches every aspect of an organization's functions as a critical growth catalyst. Chatbots, with their conversational intelligence, will be at the center and front of this strategy. That is why more than 50% of companies, including those with excellent customer satisfaction, are exploring the avenues to increase the use of AI-powered agents in their customer relationship functions.
Internally, by decreasing the agent load, chatbots help in ensuring efficiencies of operations. Increased agent efficiencies result in better customer service. Providing enhanced and consistent customer experience creates opportunities for growth through continuous customer engagement and loyalty.
With increasing adoption, chatbots are ushering in the transformation required for business sustenance and future growth. This transformation impacts every aspect of the business, including marketing, sales, delivery, and support. The only question is, where are you in this transformational journey?
---
Want to develop an Intelligent Virtual Assistant solution for your brand?