Haptik Develops COVID-19 Awareness WhatsApp Chatbot for Govt of India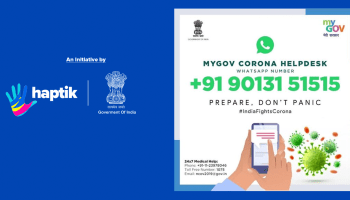 This article has been authored by Aakrit Vaish, Co-Founder & CEO of Haptik.
The Coronavirus (COVID-19) pandemic has affected over a quarter of a million people across the globe, and sadly shows no signs of abating any time soon. In India alone, we have over 400 active COVID-19 cases at the time of writing. And yet, as we struggle to come to terms with the magnitude of the situation, we are inspired by the tireless efforts of healthcare professionals and emergency workers doing their best to contain the spread of the virus and to treat the afflicted.
But even as we fight this battle against the disease itself, there is another battle to be fought that is just as critical – a battle against rumors, myths and misinformation. In this time of crisis, it is essential for people to have access to accurate and reliable information about the coronavirus.
To facilitate this process of efficient and timely information dissemination, I am pleased to announce that Haptik has developed the MyGov Corona Helpdesk – the official Government of India chatbot to answer queries about the COVID-19 pandemic.
The MyGov Corona Helpdesk chatbot is available on WhatsApp, and can be accessed simply by messaging the cellphone number 9013151515. You can also access the chatbot.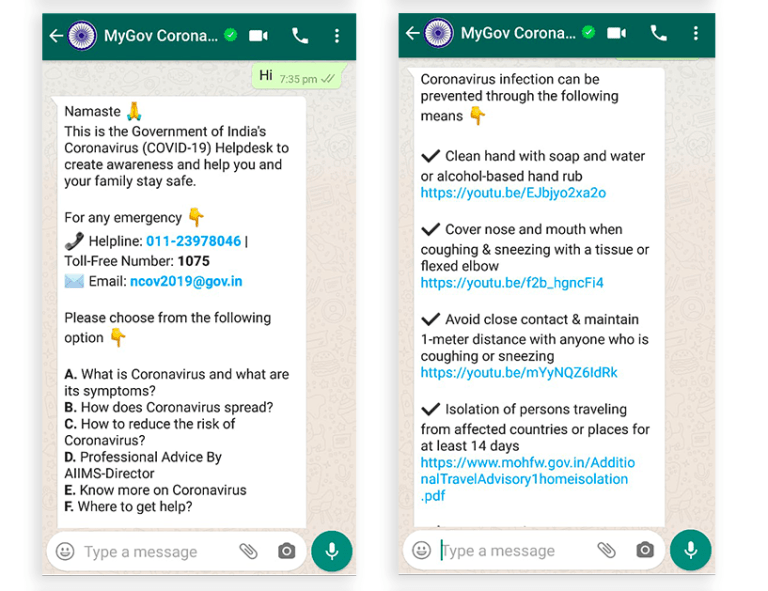 The chatbot offers a wide range of information related to the COVID-19 pandemic in an easy-to-use conversational manner. This includes information about the coronavirus, its symptoms, and how it is transmitted; preventive measures that can be taken as a safeguard against the virus; health & travel advisories; and official government helplines for further information/assistance. It also provides links to additional resources for those who wish to learn more about the disease.
We decided to implement the MyGov Corona Helpdesk on WhatsApp as it is the world's largest messaging platform, with 400 million users in India alone. This ensures that the chatbot has a wide reach and is accessible to as many citizens as possible.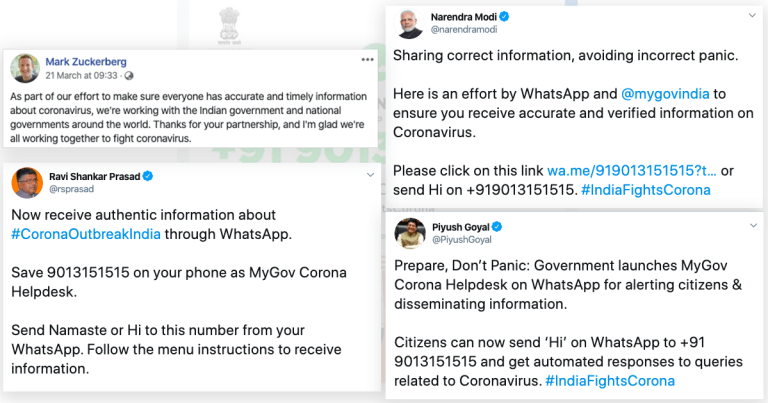 We are humbled by the fact that a number of senior public officials have endorsed and encouraged this technology-driven awareness initiative, including the Honorable Prime Minister of India, Shri Narendra Modi. We are also honored to have our efforts acknowledged by Facebook CEO Mark Zuckerberg.
In the first 48 hours since going live, the chatbot has already processed over 5 million conversations from users across the country.
When my co-founder Swapan Rajdev and I started Haptik in 2013, we did so out of a belief that conversations are the most native interface for the smartphone in the 21st century. Over the years, we have helped drive the paradigm shift from clicks to conversations by enabling enterprises with Conversational AI solutions – but we've always been convinced that this technology has wider social applications. It is our hope that this endeavor, in addition to raising public awareness in a time of crisis, also heralds a greater role for Conversational AI in all spheres of life.
Stay Informed. Stay Safe.
UPDATE: The MyGov Corona Helpdesk has only gone from strength to strength since going live, beyond our wildest expectations. The Helpdesk has processed over 35 million conversations, making it the largest chatbot ever implemented on WhatsApp. Check out the video below to watch the story unfold.
To chat with the MyGov Corona Helpdesk, click the button below