Everything you need to know about Conversational Commerce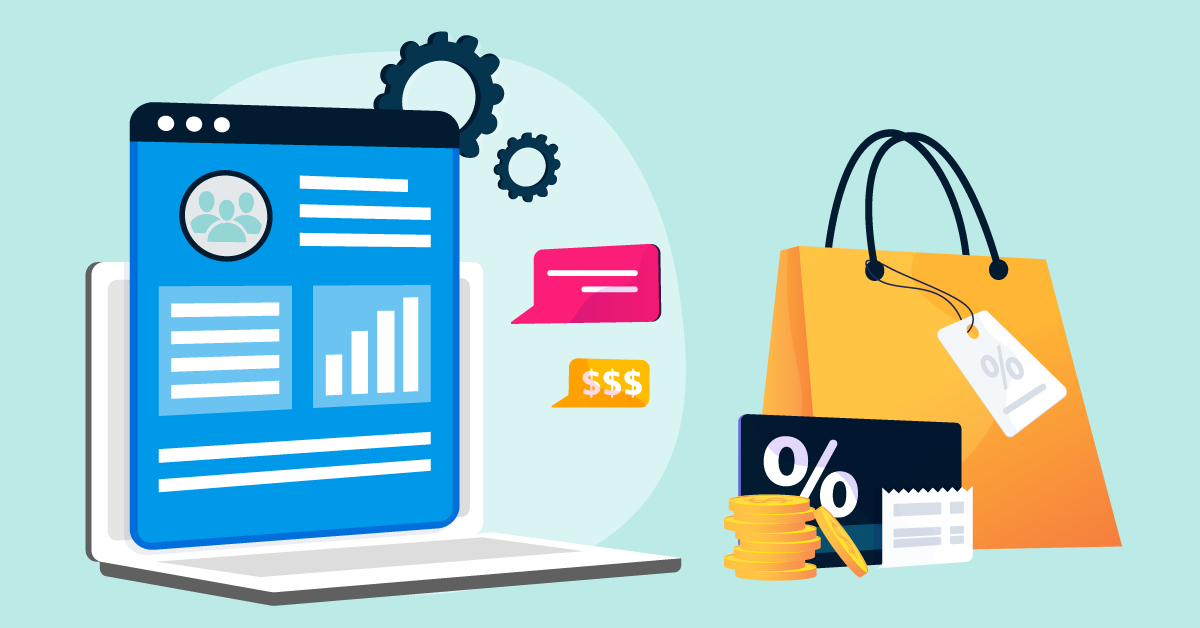 The Need for Conversational Commerce in Today's World
Digital marketing is growing at a rapid pace, and with so many brands to choose from, competition can be tough. Digital advertising is more costly and less lucrative than ever before. Statistically, you're exposed to thousands of brands and ads every day! But due to how saturated the digital advertising space has become, users are experiencing banner blindness more than ever. Consumers are becoming tired of online ads competing for their attention. They are fatigued, and they are tuning out.
With such a glut of promotional content trying to claw through platform algorithms and compete for attention, it is extremely difficult to position your brand uniquely. Even if your marketing is great, there's every chance that it won't be considered as personal or intriguing as the other ads they've seen that day.
To put the current marketing landscape in terms of a real-world analogy, there are too many fishermen and not enough fish.
Customers are looking for brand experiences that are personalized to them and cater to their individual needs and preferences. Brands need to move past having just a 'search' button on the website. They need to offer rich personalized experiences to customers at the right time in their purchase journey. And personalization goes beyond addressing a customer by their name. Simply put, in today's world, brands that cannot deliver true personalization will lose customers and revenue to those that can.

Customers are increasingly turning to messaging as a tool to connect with brands. Whether users are seeking product information, gift advice, a shop location, flexible delivery, a dinner reservation, or an impulse purchase, people chat with businesses for a wide range of reasons. Messaging apps like WhatsApp, WeChat and Facebook Messenger have risen to prominence as the platforms that online users spend most of their time on. As a result, Conversational Commerce is quickly becoming mainstream.


Table of contents:
What is Conversational Commerce?
With Conversational Commerce, users can chat with brands and find products they're looking for, get tailored recommendations based on their purchase history and preferences, receive relevant reminders and alerts, pay directly via 3rd party payment integrations, update orders, personal information, and lots more. Conversational Commerce helps your brand find new customers, drive more sales, amplify engagement, and provide delightful support across popular messaging channels.
Just a few years ago, the apex of Conversational AI would have been a consumer-brand interaction where AI chatbots and live representatives solve customer support queries. While that was still a massive improvement over traditional customer support, conversational solutions have come a long way.
Imagine a customer speaking into their phone on a chat app
"I want red running shoes, Size 12, by next week"
and instantly receiving a list of personalized recommendations that meet their exact specifications, based on their previous interactions and buying history with your brand. If they are further interested, the customer is automatically presented a link to buy the product they need without ever leaving the messaging app.
If the purchase does not happen within one particular interaction, today's conversational solutions allow you to implement funnels to follow the consumer's journey to different platforms, presenting contextualized marketing to them at each touchpoint.
"93% of customers make repeat purchases with brands if they receive fantastic customer service." (Source: HubSpot)
With predictive browser notifications, in-app or push notifications, and strategic discounts, cross-sells and upsells powered by behavioral data and AI, brands can now create a dynamic customer experience like never before.
Stages of Conversational Commerce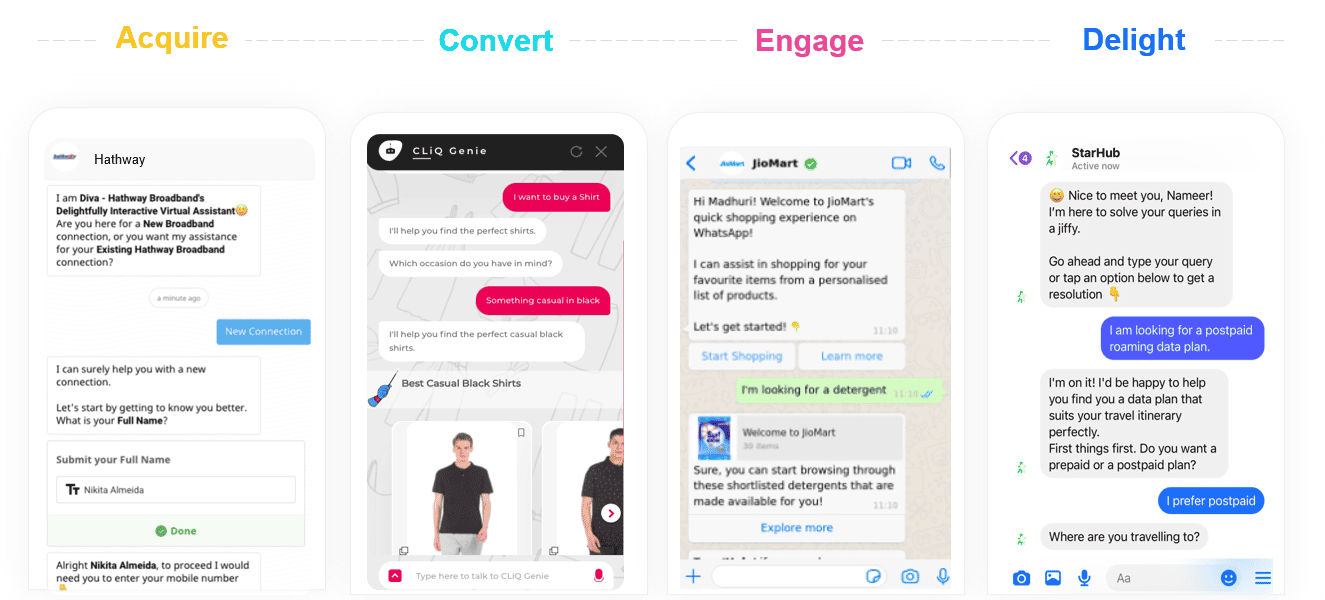 Acquire

Conversational solutions are incredibly effective tools for customer acquisition. Due to their omnichannel, multilingual and always-online nature, they can help you move your users across marketing and sales funnels by having real-time conversations.

The AI and NLP capabilities of chatbots, live agents and other conversational solutions make it easier to keep people engaged in a conversation while gently steering them towards taking the next action you want them to. They can pre-qualify leads which will save you a lot of time and ensure your funnel is filled with more high-quality prospects.

Convert

The average prospect moves through a variety of different touch points and emotional states before they make a purchasing decision.

For example, they may visit one of your channels with the broad idea that they are interested in buying new running shoes.

With modern conversational solutions, you can assist them at each step of their journey by offering personalized product recommendations, answering questions, comparing to similar products, suggesting any up-sells/cross-sells and eventually allowing them purchase a pair of shoes from your catalog without needing to leave the platform.

These recommendations are powered by advanced computational calculations, machine-learning and AI which have the collective wisdom of thousands of similar interactions and can predict what input to provide the prospect to maximize the likelihood of them moving forward through your sales funnel.

Conversational solutions also allow you to address cart abandonment, which is the biggest issue for eCommerce brands. With browser notifications, push and in-app notifications, chat reminders and strategic discounts, you can salvage many of your abandoned carts, thus maximizing your ROI.

"By 2023, eCommerce transactions powered by Conversational Commerce will bring in $112 billion for businesses." (Source: Juniper Research)

Also read: Solving eCommerce Challenges with Conversational Commerce

Engage

Conversational Commerce allows you to maximize the customer experience beyond the initial purchase. You can build loyalty and referral programs which automatically reward points and remind customers to redeem said points for special discounts. For your most frequent buyers, you can offer a priority support channel and exclusive discounts that will further strengthen the customer's relationship with your brand.

You can also re-market to your customers across different platforms, offering them platform-specific content and offers as they form deeper connections with your brand.
Delight

Once the customer has made a purchase, you can use conversational solutions to deliver timely shipping updates and delivery notifications on their messaging platforms of choice such as WhatsApp or Facebook Messenger. You can also send them product usage guides, tips, FAQs and other supplementary documentation or videos they might need to get the best out of their purchase.

The post-sales experience is extremely crucial to fostering brand loyalty and conversational solutions really help drive home the value of choosing your brand over the competition.
What are the benefits of Conversational Commerce?

Conversational commerce has fundamentally transformed several aspects of the brand-customer communication process across nearly every channel and touchpoint in the customer journey. The most significant benefits of deploying a Conversational Commerce solution are as follows.
Conversational Commerce allows brands to provide personalized shopping experiences at scale

By their very nature, websites are designed for structured interactions like viewing content, browsing catalogs etc. As a medium, they do not accurately mimic the organic, free-flowing way in which people shop – asking questions, looking for advice, exploring options and interacting with other humans during the transaction.x
Modern conversational solutions powered by AI and Natural Language Processing (NLP) can accurately understand user intent and can emulate the in-store, personalized buying experiences customers are looking for.



Conversational Commerce dramatically improves turnaround time for customer queries and allows brands to have an always-online, 24/7/365 support presence.



The massive surge in customer support queries compounded with the lack of workforce during the pandemic dramatically accelerated the move to chatbots and virtual assistants for a lot of brands.



Modern chatbots can handle thousands of queries simultaneously and resolve the most common user queries without requiring any human intervention. Brands that use Conversational Commerce solutions can greatly improve the scalability and productivity of their customer support workforce by freeing up support agents to focus on high-value queries.



Conversational Commerce drives up sales and conversions


AI-powered virtual assistants can play the role of a sales agent, engaging users with personalized product recommendations and suggestions based on user intent and conversational context, gently moving them further along in the sales funnel.

Brands can use conversational solutions in a variety of ways for up-sells, cross-sells, cart abandonment recovery funnels, re-marketing campaigns, and several other use cases for reducing costs, increasing ROI, and improving bottom-line revenue.

"By 2023, conversational solutions will save $11 billion annually for businesses that use them worldwide."(Source: Juniper Research)


Allows brands to provide a superior customer experience

Research from Forbes has shown that customer experience (CX) is now the biggest determining factor for consumers when they are deciding which brand to do business with. Receivi

"Receiving a great customer experience can increase customer spending by up to 140%." (Source: Deloitte)


Conversational Commerce allows brands to offer their customers a seamless, personalized, omnichannel experiences.

With the ability to get real-time customer support on any device, exclusive deals, recommendations, and insights that are tailored to their specific preferences, customers are much more likely to be loyal to the brand and recommend it to other people in their network.
Industries where Conversational Commerce can prove to be valuable
Conversational Commerce has changed the face of several industries forever – simplifying complex workflows, automating processes, and assisting employees to provide superior customer experiences across nearly all touch points in the customer experience.
Retail Use Cases
Retail 3.0 will be defined by Conversational Commerce, adding the personal touch to the buying experience that was sorely missing from the eCommerce space until now. Virtual assistants can simulate the experience of being greeted by an in-store assistant and help customers with personalized recommendations that are based on their unique requirements, nudging them closer to a purchase.
Improve in-store experience
Track customer behavior
Streamline operations
Bridging the online-offline retail gap




Read more: How Retail Chatbots Amplify Customer Experience

Travel Use Cases
Conversational Commerce can help travel businesses upscale their customer service and provide customers the nuanced, personalized experience they are looking for.
Virtual travel agent for booking trips
Automate delivery of important updates/schedule changes
Automate incoming customer inquiries
Easier customer feedback collection







BFSI Use Cases
Banks and businesses in the financial sector can benefit greatly from Conversational Commerce due to the high degree of alignment between the capabilities of the solution, customer demands and business goals. NLP and AI make it easier than ever before to interpret customer queries and send personalized responses. Whether the query is technical, account-related or a more general question, conversational solutions allow financial customers to skip long call center queues and access solutions to their problems in real-time.
Customer support
Payment services/reminder
Acquisition
Mobile banking
Onboarding





Explore Industry-Specific Pre-Built Templates


Healthcare Use Cases
Healthcare is an industry that stands to benefit enormously from the Conversational Commerce revolution with far-reaching implications for saving lives, advancing medical breakthroughs, and improving the lives of healthcare workers.
Hassle-free patient billing and registration experience
Identify the severity of symptoms and escalate emergency cases
Find local healthcare services
Easily answer FAQs





Things to keep in mind before adopting Conversational Commerce
Broadly, your choice to adopt Conversational Commerce for your brand will depend upon a detailed examination of two distinct frontiers.
Strategy
This is the most important place to start when considering a Conversational Commerce solution. This is where you will design the 'big picture' for your brand's conversational strategy by asking yourself questions like
1. What are the different customer personas for our brand? Where can a conversational solution benefit each of them?
2. What does our customer journey look like? Which stages of the customer life cycle will be enhanced by a conversational solution?
3. Which parts of our existing funnel are causing the most friction to prospects? How will a conversational solution address these gaps?
4. What are the specific targets and KPIs we hope to achieve – increase customer acquisition, reduce cart abandonment, improve conversions etc.
5. What are the use cases for a conversational solution?
6. What is the volume of incoming customer queries currently? How many of those queries could we automate?
7. How much training will our existing staff require? Who will manage the deployment process? Will this primarily be a sales channel or a customer experience tool as well?
8. What will the conversation design look like? What kind of voice and tone do you want to represent your brand? What will your brand's chat persona be?
Understanding your customers on a micro and macro level – hopes, desires, interests, affiliations, likes, dislikes, demographics – will help you lay out a strong foundation on top of which you can integrate a Conversational Commerce solution.
Technology
To maximize the ROI of adopting a Conversational Commerce solution, you need to understand if the provider you decide to work with has a solution that is technologically capable of meeting your business demands.
While evaluating a Conversational Commerce provider, make sure that their solution has the following features:
Artificial Intelligence

Natural Language Processing (NLP)

Machine Learning

Live chat/human handover

Detailed analytics dashboard

Sentiment analysis

Easy integration with your existing channels such as your website, popular messaging platforms, CRM, payment systems etc.
Omnichannel Capabilities
Every year, businesses in the United States alone lose a whopping $35.3 billion in revenue to their competitors because of customers leaving them due to a bad customer experience.

(Source: CallMiner)
Delivering a great customer experience is no longer a value-add, it is mandatory.

"In fact, 86% of customers are willing to pay more if it means they receive a fantastic customer experience."

(Source: PWC)



Modern conversational commerce solutions have the potential to unlock the true potential of your brand by providing just the right piece of content, suggestions, and recommendations to your customers exactly when they want it. Without a truly omnichannel conversational solution, you will be leaving a lot of revenue on the table and spend much more time and manpower on customer support tasks that can be automated.
A Conversational Commerce solution like Haptik's Commerce Plus will eliminate a lot of the roadblocks that consumers would otherwise have from buying your products and having a wonderful experience with your brand.
Whether it is the world's most popular messaging apps like WhatsApp or Facebook messenger, your website, or any other digital touchpoint, Commerce Plus will allow you to implement virtual assistants and marketing funnels that keep prospects engaged, provide value, eliminate indecision, and nudge them towards a purchase at each stage of the customer journey.
There has never been a more exciting time to hop on the conversational bandwagon for your brand – the technology is ready, the solutions are ready and most important of all, your customers are ready.

Back to top