Create impactful support experiences with Instagram Chatbots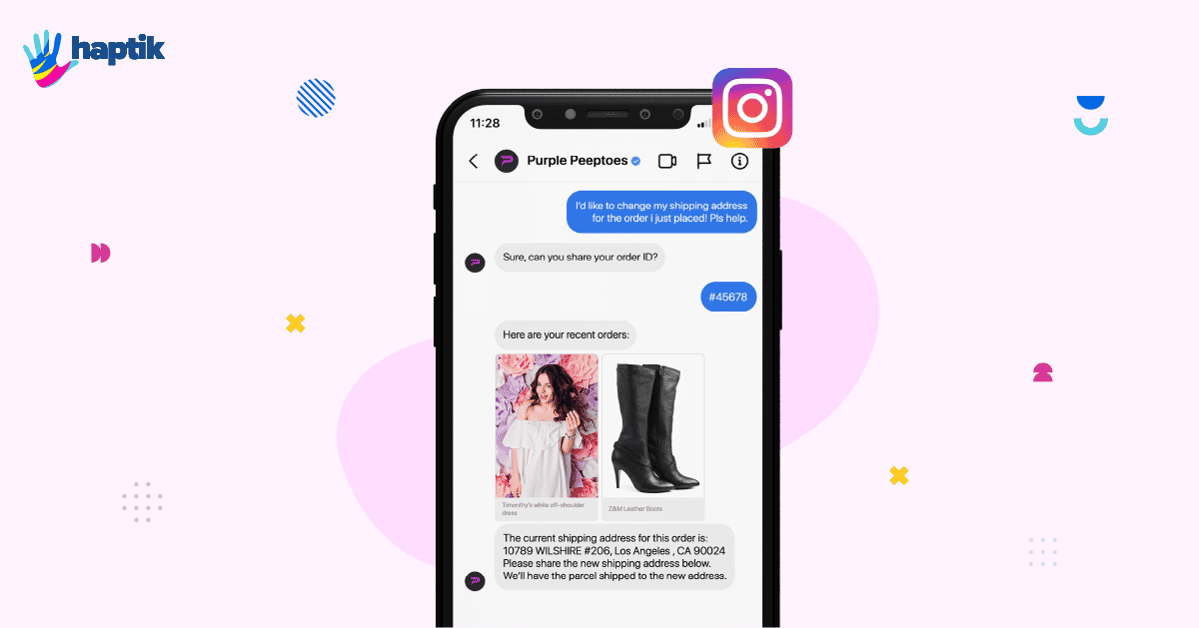 Automate Instagram DMs, offer real-time support to your users on the platform they love, using Haptik's Instagram Chatbots!
Businesses and people are messaging each other more than ever.
Conversations between brands & users on Instagram & Messenger have grown by 40%.
Out of the 1.3bn active users on Instagram, more than 83% of users discover products and services on Instagram directly, making it a critical channel for businesses to connect with customers and build strong relationships.
For businesses, the opportunity to improve user engagement, boost sales and improve CSAT on messaging is enormous through the use of Instagram Chatbots.
We're delighted to bring you Instagram Chatbots by Haptik! They're built to help your business deliver accurate, blazing-fast, and secure support to your customers directly on Instagram.
Here are some of our favorite automation use-cases that drive value and improve ROI for brands through Instagram via AI-powered messaging.
Break the ice: Start a conversation with users both new and existing about your products, offers, discounts, and more! Ice breakers within Instagram chatbots are great for showcasing your product catalog and providing quick replies to frequently asked questions such as 'Do you offer free international shipping?'


24/7 Customer Support: Handle thousands of conversations simultaneously with ease & accuracy using Conversational AI. Enable faster replies for common queries such as track order, refund, cancellation, replace, change shipping, etc. thereby reducing wait times and delivering an enhanced customer experience.


Generate quality leads: Save time for your sales reps by nurturing and qualifying leads with AI-powered conversations. Collect basic user details such as email, phone number, and intent of reaching out and seamlessly transfer to a live sales agent when needed in real-time.


Trigger keyword-based conversations:

Trigger conversations based on specific keywords to generate user interest and drive engagement. Promote keywords within the caption of your IG post prompting customers to use them to chat with your brand in DMs and have automated conversation flows to drive engagement & conversions.



Seamless Agent Escalation: Contextual AI to Agent handoff to reduce risk scenarios. Agents get quick access to user history, purchases, loyalty, and more to deliver accurate support and accelerate 'in-the-moment' sales
Using our Instagram Chatbots, you can now elevate CX, improve sales, and have a colossal opportunity to grow your impact on one of the world's most valuable social networks. Haptik offers powerful integrations with Zendesk, Freshdesk & Salesforce.
Learn more about Instagram chatbots and how they can help your business by clicking on the link below.