WhatsApp Marketing for Brands: How to Avoid Spam in 2023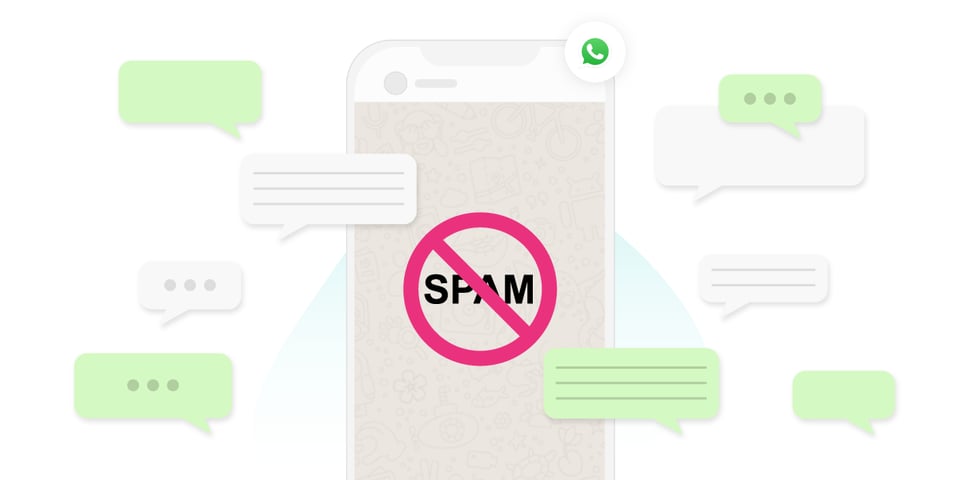 The widespread issue of spam has made it increasingly challenging for legitimate marketers to engage customers. According to industry statistics, approximately 14.5 billion spam messages are sent daily, constituting between 45% to 73% of all emails. However, with technology advancements, email filters have become more sophisticated, effectively reducing the amount of spam in inboxes. Now, brands or marketers are exploring alternative means of reaching customers with their value propositions, resulting in overutilizing one-to-one messaging channels like WhatsApp.
WhatsApp has allowed brands to create a business account to communicate with customers and leverage the benefits of integrating WhatsApp into their marketing strategy as a valuable automation marketing tool. However, utilizing WhatsApp for business communications has been marred by using the channel to send unsolicited promotional messages, which users perceive as spam. As per WhatsApp's Monthly User Safety Report in August 2022, a total of 2.3 million accounts in India were disabled due to violating the platform's terms of service.
A company's brand plays a vital role in determining its success and reflects its credibility, values, and personality. By maintaining a strong brand image, a company can drive sales and build lasting relationships with its customers. To help companies enhance their brand image, we have identified proven strategies for engaging customers on WhatsApp while avoiding the perception of spamming. These methods will effectively promote the brand and build trust and positive customer relationships.
In this blog, we cover -
The consequences of spamming on WhatsApp while marketing
Spam refers to unsolicited and unwanted promotional communications, such as calls, emails, or text messages, sent to a large number of recipients in bulk. Brands must exercise caution to avoid being marked as spam, as this can have dire consequences on their reputation and negatively impact sales. Spam flagging can become a matter of brand image also.
With the growing adoption of WhatsApp by businesses through Meta, thousands of brands worldwide have utilized the channel, effectively reaching over 80% of its users. As marketers recognize the vast potential of WhatsApp as a marketing tool, unsolicited messaging has become a menace for users, making it difficult to manage personal communications. This is where brands must gain discernment of the WhatsApp Business Policy.
Penalties for violating WhatsApp Business Policy
The WhatsApp Business & Commerce Policy is designed to regulate business activities and ensure a positive customer experience. Adherence to the policy by brands using the WhatsApp Business API is mandatory, and non-compliance may result in the following:
Temporarily or permanently getting banned from the platform

Negative impact on a business's ability to reach a large user base

WhatsApp will issue a warning and provide a three-month grace period to resolve any violations.

Continued non-compliance may result in temporary blocks on messaging and, ultimately, a permanent ban.
The policy encompasses all aspects of WhatsApp, from messaging to catalogs, to ensure customer safety and prevent spam messages and irrelevant content. WhatsApp's enforcement actions and warning process aim to allow businesses to make necessary adjustments to comply with the policy. By following the commerce policy, companies demonstrate their commitment to delivering secure and meaningful customer interactions.
Avoiding spam on WhatsApp: guidelines for brands
The overuse of one-to-one messaging channels, such as WhatsApp, for marketing purposes, has become a growing concern due to the potential to spam customers and negatively impact the brand's reputation. It is crucial for businesses to understand and adhere to guidelines for utilizing WhatsApp as a marketing channel, maintain a healthy WhatsApp business account, and build customer relationships effectively.
Let's dive into the guidelines.
a. Streamline WhatsApp opt-in process for optimal user experience
Unsolicited marketing messages are not well-received, potentially causing customers to opt out or even block the brand. So, it is essential to comply with regulations, get customers' consent before sending promotional messages via WhatsApp, and ensure that the messaging strategy aligns with customer preferences.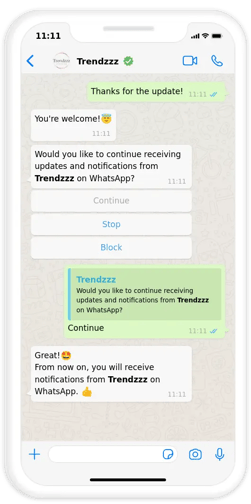 WhatsApp prioritizes quality communication between people and businesses. Opt-in processes and user feedback are regularly evaluated on the platform to ensure policy compliance and maintain high standards. Before sending out marketing messages on WhatsApp, brands must segment the database and keep on updating it by following the methods below.
Get an explicit opt-in that covers all message categories.

Obtain separate opt-ins for each message category to minimize the risk of users blocking the business due to unsolicited messages.

Provide clear instructions for opting out of specific message categories and honor opt-out requests.

Ensure opt-in and opt-out flows are straightforward and user-friendly.

Communicate the value of receiving information via WhatsApp to users.
b. Be aware of policy-compliant businesses on WhatsApp
Complying with WhatsApp's Commerce Policy is crucial for all businesses, regardless of size, industry, or location.
Pharmacies and drugstores

may use the WhatsApp feature for non-regulated items like groceries, personal care, and more, but not for pharmaceuticals. Utilizing WhatsApp Business, they can provide purchase confirmations, use commerce product features, and offer customer service and delivery updates for non-pharmaceutical products.




WhatsApp also supports

licensed pharmacies

for medical services such as appointment scheduling, medical service information, survey/bill reminders, and sharing of prescriptions written by licensed medical practitioners. These actions are considered medical advice.

Brands in the

supplement industry

may leverage WhatsApp for non-sales purposes. But WhatsApp's Commerce and Business Messaging policies prohibit unsafe supplements.
Businesses must stay updated on evolving WhatsApp Business API Commerce policies, which vary by region and local governing laws. Partnering with a trusted WhatsApp Business service provider can ease compliance concerns.
c. Adhere to acceptable WhatsApp Business message types
Brands must use approved Message Templates to initiate conversations. Replying to user messages without using business message templates is allowed within 24 hours, at standard pricing. Automated responses during this window must include clear escalation paths, such as human transfer, phone, email, web support, in-store visits, or support form. Brands can revert to approved Message Templates outside the 24-hour window.
d. Uphold opt-out requests for customer satisfaction
It is crucial for every brand to obtain customer consent before sending marketing messages, and they should refrain from bombarding with unwanted messages. They should respect all opt-out requests, and promptly remove customers who request to opt out of communications on WhatsApp.
e. Segment customers for relevant WhatsApp campaigns
Sending irrelevant promotional messages to all customers can affect brand image, waste resources, and restrict personalization, impeding the ultimate marketing goals. Segmenting customers effectively can help brands avoid this.
To avoid the perception of being spammy, it is essential to plan:
WhatsApp campaigns effectively

Minimize the repetition of marketing messages

Leverage WhatsApp marketing tools for duplicate message checks

Create compelling, attention-grabbing content
f. Maintain WABA quality rating: benefits and best practices
WhatsApp evaluates a brand's performance and customer satisfaction with the brand through a quality rating system and accordingly assigns a score to each business account. The rating system is denoted by the colors Green, Yellow, and Red, which represent High, Medium, and Low ratings, respectively. A Green rating signifies a high level of trustworthiness and efficient customer service. Conversely, a Red rating may result in restrictions or limitations on sending business message capabilities and accessing certain features. The rating is determined by factors such as message volume and recency, customer feedback, and reasons for blocks/reports.
A high-quality rating on WABA helps brands attain customer trust and boosts the reach of their marketing messages. It enables brands to send more messages and access superior platform features, leading to becoming a more effective WhatsApp business account.
9 practical tips to improve WhatsApp Business Account quality rating
Provide prompt and helpful customer service

Verify the account through the WhatsApp verification process

Monitor the quality rating score and follow suggestions to improve it

Send messages only to opted-in users

Get opt-in before sending unrelated messages

Offer an opt-out option for specific messages

Be mindful of message frequency and relevance

Personalize and customize WhatsApp message templates based on customer responses

Ensure 100% compliance with WhatsApp business messaging and commerce policies
Take away
WhatsApp has become a popular channel for businesses to engage with customers and is essential to their marketing strategies. However, spam has become a growing issue on the platform, leading to penalties for businesses that violate WhatsApp's Business & Commerce Policy.
To maintain a professional brand reputation and avoid unwanted user backlash, it is advisable for brands to partner with a trusted WhatsApp chatbot solution provider like Haptik. This will help ensure that all communication with customers is in line with their preferences and expectations, receding the risk of spamming and potentially facing a ban on the platform.
Ready to take your brand to the next level with Haptik's WhatsApp Solutions?