Enterprise Helpdesk Chatbots: How They Boost Customer Service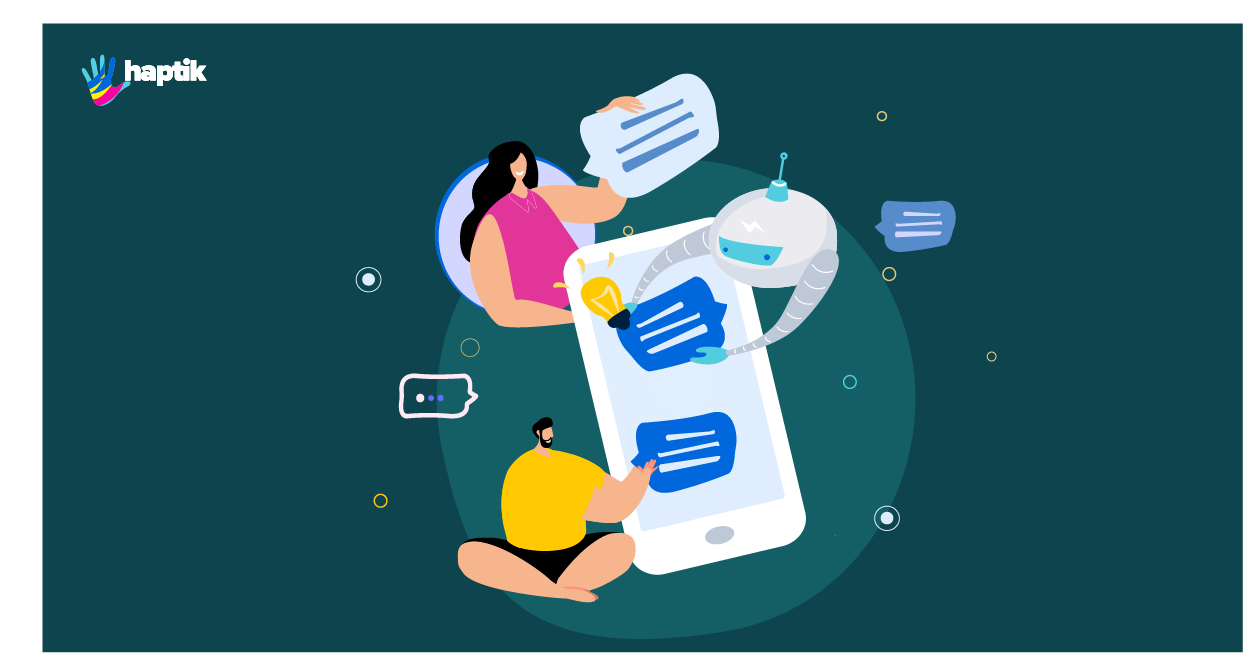 Enterprise helpdesks are the key drivers of customer satisfaction and engagement, as they are usually the first point of contact for customers. They provide a wide variety of services, including responding to sales inquiries, product questions, and solving customer issues. Customers expect quick and accurate information and guidance from the enterprise helpdesk. Their experience with the helpdesk contributes significantly towards retaining the customer base and growing the business. According to Forrester, 73% of customers say valuing their time is the most important thing a company can do to retain them. Internal efficiencies, too, impact customer service. If you can reduce the workload of your helpdesk agents, they can provide better service.
Chatbots are emerging as capable virtual agents that can enhance the effectiveness of enterprise service desks. Studies indicate that 30-50% of service requests are repetitive and can be automated. The automation, through enterprise helpdesk chatbots, can drive both internal efficiencies as well as customer service.
Learn how support chatbots enable organizations to scale customer service initiatives without higher investments.
What Enterprise Helpdesks Do?
There are two responsibilities of an enterprise helpdesk; one, to address customer queries and process their requests. Serving as the first point of contact for existing and potential customers, they provide answers to customers and resolve their issues. They also drive internal and external efficiencies by ensuring compliance with SLAs.
However, the helpdesk also contributes strategically. Their secondary responsibilities are to help larger business objectives and create business growth opportunities through customer satisfaction and engagement. Such strategic aspects are the result of many factors and activities that the helpdesk performs.
To achieve these objectives, helpdesks;
Understand consumer queries and identify immediate and long-term solutions.

Look for the answers and information from enterprise knowledge bases and share pertinent information with customers.

If the solution is not readily available, raise the request/ticket appropriately.

If the issue requires specialized expertise, transfer the conversations to that person.

Facilitate self-service options for customers

Track customer satisfaction through customer service KPIs and provide reports and analysis for improvements and decision making.
An enterprise help desk is a customer-facing function that acts as a bridge between the organization and its customers. The helpdesk team initiates any customer onboarding, offboarding, troubleshooting, and technical requests. Traditionally, users and customers had a variety of ways to access the helpdesk. Those options included in-person walk-ins, phone calls, email, ticketing systems, and websites. However, leading enterprises are beginning to streamline and consolidate customer engagement methods as customer preferences change. Customers no longer prefer to communicate with the enterprise using email, picking up the phone, or simply walking down to the service center. Time constraints, lack of human connection, and slow response are a few factors driving the trend. Traditional methods no longer work effectively, and hence, companies are adopting better modern technologies that their customers are likely to use. These newer methods of customer engagement facilitate self-service and automation of helpdesk tasks.
Case Study: How we Stepped up Customer Service with 'Fixie' for Onsitego and help them achieve 70% automation rate
Challenges of Enterprise Helpdesks
In this day and age, customers have many options. Their service experience with a brand plays a vital role in deciding their brand loyalty. A poor customer service experience drives them away to your competitors. Hence, the help desk must ensure that customers get consistent satisfaction and a valuable experience as per their needs.
Changing Customer Expectations
As customer expectations change and switching brands becomes easy, the enterprise helpdesk faces more significant challenges than before. Let's see some of the crucial challenges below.
Customers want immediate response and faster resolutions. They no longer like to wait in the queues, in-person or on the phone. They also expect 24/7 service availability. They appreciate and, in many cases, expect the customer service to be available at any hour. Availability of options to address their service requests is also an essential expectation. They no longer want to be confined to a single channel like phone calls.
Customers also don't like to explain their problems repeatedly. They want companies to anticipate their needs, know their issues, and address them no matter when they converse with the helpdesk staff. As technology evolves and data becomes available to organizations, customers expect to get personalized resolutions and a consistent experience throughout.
Capacity Constraints
Enterprise helpdesks need to ensure that they have enough capacity to meet the service demands to meet customer expectations. The capacity includes workforce, infrastructure, communication channels, and information distribution mediums (for example, email, live chat, and website FAQs). But the customer demand will not be consistent across the year. For most businesses, the demand will periodically increase around a few key events (e.g., festivals). Similarly, there would be times when the demand can drop significantly. A consistent capacity might mean extra expenditure while the demand is low and will not be enough when the demand is high. Scaling-up and scaling-down are both significant challenges for helpdesks.
Internal Efficiencies
The helpdesk must ensure that they continue to provide services according to customer expectations while oscillating between capacity demands. Most organizations would have formal or information Service Level Agreements for their helpdesk functions. For example, First Call Resolution (FCR) rate is a critical indication of helpdesk efficiency and customer satisfaction. There will also be additional Key Performance Indicators (KPI), including the response and resolution time. The helpdesk must ensure that they comply with these efficiency parameters while fulfilling service demands and customer expectations.
How do Enterprise Helpdesk Chatbots work?
Artificial Intelligence (AI) is powering chatbot platforms to help enterprises respond effectively to these challenges. An intelligent conversational helpdesk bot can perform as a virtual agent that answers customer queries and helps them solve their issues while ensuring that the challenges are met.
These chatbots serve customers in two ways; they identify customer intent through natural conversations and secondly, customers don't need to remember any commands or choose from elaborate sets of options. The use of such conversational patterns reduces friction and enhances the consumer experience.
Conversational bots provide an immediate touchpoint for the customers without wait times and delays irrespective of the number of concurrent requests. The bots can function on multiple channels, including website and mobile apps, and can facilitate text and voice-based communication capabilities. The variety of channels and mediums allow customers to choose the best option given their context.
The bots also allow customers to state their queries and messages using natural conversation patterns without traversing through a maze of options or navigation. Using Natural Language Processing (NLP) algorithms, it identifies the customer's intention. Based on the request, it then decides the best next course of action. By leveraging the backend ML and AI algorithms, they can intelligently respond in case of unique situations and fulfill customer needs.
Act as a Knowledge Repository
The bots can also serve the information by searching through the enterprise knowledge base. They can either provide the answers through their interface or point the customers to the right resources like a website FAQ page or an explainer video. The bots can also be intelligent enough to fulfill many customers' requests, like booking a cab or issuing an insurance policy, without any human intervention.
Here's a ready-to-deploy Smart skill for finding the right Insurance plan:
The bots can identify appropriate channels to communicate the information. Since they facilitate asynchronous communication, they can proactively provide the information to customers without being present at one end of the communication. Such capabilities enhance customer trust in the brand.
Connect to Human Agents
The helpdesk chatbots can transfer the conversation to an appropriate agent for inquiries that require human knowledge and intervention. Such a connection may happen as a response to explicit customer instructions. But the chatbots can also perform such transfers intelligently by extracting the information using NLP and Machine Learning (ML) algorithms to identify who will be the most appropriate agent using historical data and patterns, along with additional rules that enterprises may define. The customers get to experience a seamless communication and service given these capabilities of the bots.
Automate Business Workflows
If the chatbots are optimized for customer journeys, they can also perform many actions, like accepting application forms and allowing customers to submit required documents. Using Computer Vision (CV), Anomaly Detection, and Predictive algorithms, the chatbots can also verify the documents.
Such optimized chatbots can facilitate many end-to-end processes as well. Autodesk, an American multinational software company, could reduce the response time through automation by an impressive 99%.
Advantages of Using Enterprise Helpdesk Chatbots
Businesses are already leveraging the intelligent capabilities chatbots present. According to a study, companies that adopted AI chatbot capabilities for their helpdesk had a 65% reduction in support tickets, improved average handling time by 40%, and 35% faster response time.
These improvements come through the automation of repetitive and time-wasting tasks by leveraging the power of AI-based chatbots. The helpdesk chatbots can connect to enterprise knowledge bases to answer complicated customer queries in real-time. They can also connect to external APIs for appropriate data depending upon the service scenario. As the ML algorithms powering these chatbots can automatically learn from new data getting generated, bots can quickly acquire the ability to solve more problems as time passes, thus increasing operational efficiencies and resolution for customers.
Enterprise helpdesk chatbots improve customer satisfaction through a higher first-call resolution rate (FCR). They can automatically connect to other helpdesk applications to raise tickets. They also enable the helpdesk to monitor KPIs by identifying tokens and customer requests that may violate the SLAs.
The bots also help internal efficiencies by reducing the load on human agents and cost per call. Gartner found out that companies can free up to 30% support capacity by using the AI-powered chatbots for their customer service functions.
They can also help organizations reduce customer service costs by 29% compared to human customer service agents, as they can find and communicate information faster. There are no efficiency and productivity bottlenecks that may affect human agents through fatigue, complicated, and difficult conversations that they sometimes have with frustrated customers. Even when the human agents need to speak to customers, chatbots can help them by sharing the pertinent customer information and the issue beforehand, so that they are prepared to help customers with their queries. Such proactive information sharing also helps in providing quick resolutions and thus, enhances customer satisfaction.
Chatbots enable enterprise helpdesk to function 24/7 and scale up and down seamlessly, without any additional efforts or investments. Depending upon the capabilities of implementation and optimization, chatbots can help handle service requests for level 1,2 or even level 3 support.
At a more strategic level, the helpdesk chatbots help enterprises ensure better-coordinated response for customers even when multiple functions and departments are involved. Often, these departments work in silos. They may also be separated geographically. Providing a unified experience to customers may demand extra effort in such cases. While these factors won't affect simple queries and service requests, chatbots can ensure an integrated and consistent experience for customers.
Chatbots can also be useful instruments for customer retention. Most of the customers leave the organizations without reporting about their unsatisfactory experiences. With Sentiment Analysis algorithms' support, chatbots can understand if a customer feels unsatisfied and can take actions based on such analysis. It is also easier to collect feedback from the customers. The data collected through such sentiment analysis and feedback can help you take better decisions to improve your customer service and engagement.
Check out our new handbook on Customer Service Chatbots:Swift, Seamless, AI-Powered Support
To Sum Up
AI-powered bots and cognitive automation are quickly becoming the driving force for digital transformation and enterprise Helpdesk automation. With ongoing technological advancements and the evolution of capable enterprise chatbot platforms, it is becoming easier to adopt these capabilities. Capable platforms are available that can help you build and roll-out chatbots that can serve many use cases out of the box.
Optimized implementation of conversational bots will enable your customers to quickly resolve their issues and queries, while you can significantly decrease your operational costs. They enhance customer experience while driving efficiencies of internal operations and optimizing business processes. Customer satisfaction creates growth opportunities without spending vast amounts on marketing as your customers become your brand ambassadors.
AI-powered enterprise helpdesk chatbots can efficiently resolve most repetitive questions effortlessly. Meanwhile, your support team can stay focused on the complex, high-priority tasks than getting stuck into repetitive tasks that an enterprise helpdesk chatbots can easily automate. It is the best of both worlds for you.
---
Want to develop an Intelligent Virtual Assistant solution for your brand?