Drive growth with WhatsApp promotional messages in 2023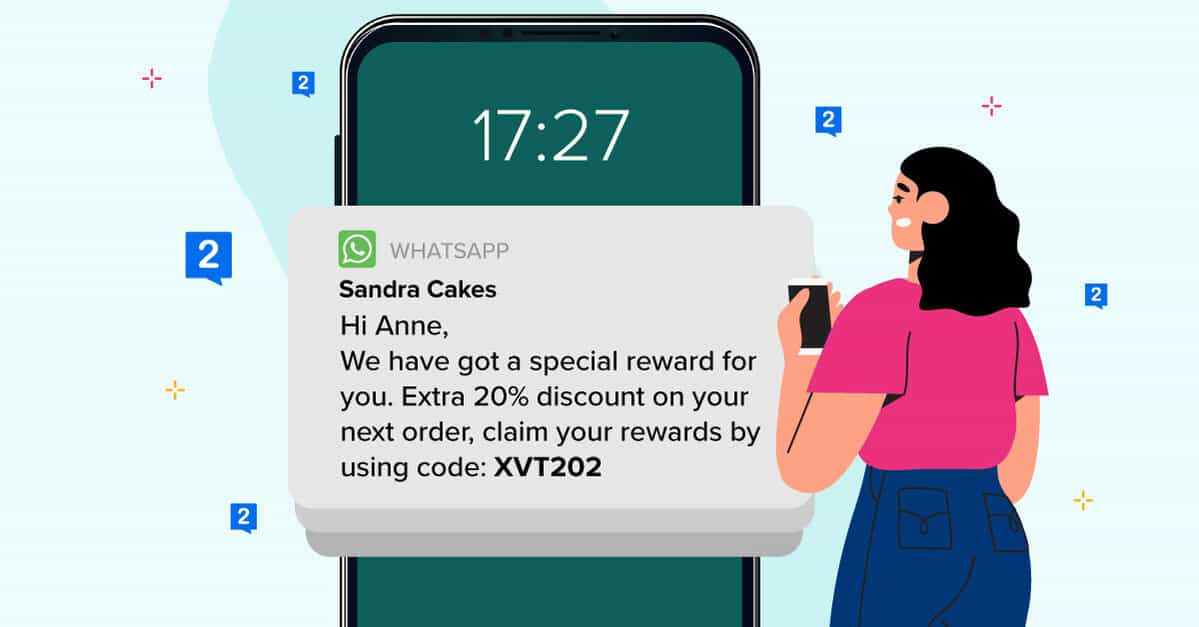 63% of consumers expect businesses to understand their needs and expectations, and 80% want brands to communicate meaningfully. Indicative that customers are looking towards brands to share valuable information across the buying journey. WhatsApp Business API now enables brands to send WhatsApp promotional messages or marketing messages to their customers to empower businesses to do precisely the same. The aim is to help brands create a personalized and convenient experience for their customers on WhatsApp, which helps in strengthening their relationship with them.
This rollout is helping many small and large-scale brands take their WhatsApp marketing efforts to the next level. Let us understand how WhatsApp promotional messages can be a game-changer for brands to nurture customer relationships, improve customer engagement and drive more conversions.
What are

WhatsApp promotional messages?
WhatsApp has been stringent with its messaging policy; it values its user's privacy and doesn't allow brands to send spammy or intrusive messages on the platform. Until recently, businesses could send transactional messages like order updates using the approved Message Templates provided under WhatsApp Business API. With its launch of WhatsApp promotional messages, it now facilitates brands to send promotional notifications to the customers who have opted in to receive them.
WhatsApp notifications include:
Product recommendations related to a customer's previous purchases
Helpful informational alerts
Relevant offers
Newsletters
The aim is to empower brands to promote their products by proactively sharing helpful information across the buying journey.
Why are WhatsApp promotional messages a game-changer?
Expected: People have already opted-in to receive this information from the business over WhatsApp, so they are not surprised when they message them.
Relevant: The WhatsApp promotional messages are personalized to the specific person (Ex: based on recent purchases or recent engagement with the business, personalized content in the message itself).
Timely: People receive these WhatsApp notifications when they are relevant to them.
Download Report: How is WhatsApp shaping commerce?
How to use WhatsApp promotional messages?
Looking at how powerful WhatsApp promotional messages are, not utilizing them in your marketing strategy would mean leaving serious money on the table. A WhatsApp chatbot can be a great asset to unleash the true potential of WhatsApp marketing messages. Let us look at how various industries can use these WhatsApp promotional messages to enhance customer engagement, drive conversions and devise a robust WhatsApp marketing strategy.
Retail and Ecommerce :
Abandoned cart message:
The open rate of WhatsApp messages is more than 90%, so sending an abandoned cart message through WhatsApp makes perfect sense. This way, a retailer can nudge the customer to complete the transaction by sending them a picture or a video of the abandoned item with a link that directs them directly to the order completion page.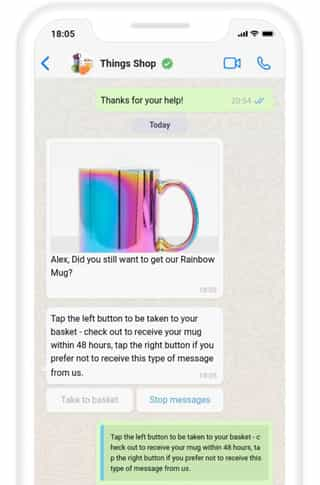 Proactive shopping assistant:


Customers who desire personalized shopping assistance can be satisfied by having a WhatsApp chatbot that acts as an advanced sales agent guiding the customers to make the right choice. The WhatsApp chatbot can also help customers evaluate two options by sharing valuable tips and information.

Read 8 Reasons why your brand needs a shopping assistant chatbot

Order tracking notifications:


Sending proactive order updates to customers about their latest delivery, so they know precisely where their package is and when it will reach them.

Ping dormant customers:


Retailers can connect with customers who have not shopped with them in a while by sending a feedback form or a discount offer to re-engage with them.
Brands can also send the product back-in-stock reminders, product recommendation messages based on the customer's recent purchase, new product messages, and ROCR scanning receipts for loyalty schemes.
FinServ/BFSI :
Immediate follow-up:
After customers connect with representatives via calls to lodge their requests/complaints(e.g., card replacement), brands can send a prompt follow-up app notification to confirm the request and highlight the next course of action.





Brands can enroll customers for a new line of credit or installment plan by sending WhatsApp notifications.

Insurance companies can get on-the-spot policy renewal acceptance from their customers by sending policy renewal quotes. They can also direct them to the website to complete the entire renewal process.
In addition to these, companies can share WhatsApp notifications regarding credit card discounts, new partnership offers, pre-approvals for new loans and credit cards, and much more.
Know how WhatsApp commerce is driving the banking and finance sector
Telco (Sales & Customer Care/Support)
Welcome message


After obtaining an opt-in during the sim registration process, brands can introduce their new customers to their WhatsApp channel with a welcome message. Here they can even educate them on how they can use the medium to check their balance, recharge their accounts, pay their bills, etc.

Proactive outreach WhatsApp notifications about top-ups or renewals can be sent to customers when their plans are nearing expiration.

Brands can also share relevant offers and deals and provide updates on queries registered by customers.

To gauge the customer's experience, they can be sent WhatsApp promotional messages asking for feedback post their call-center interaction.

Check out the best WhatsApp template messages to use in 2023
How to get started with WhatsApp promotional messages?
No additional integration is required for brands already using the WhatsApp Business Account or API to send WhatsApp notifications. The message template creation process is similar. Businesses need to choose from one of the eleven pre-existing template categories when submitting a marketing notification template which will get reviewed by WhatsApp to ensure there are no Commerce or Business policy violations.
One of the critical requirements that brands need to follow before sending WhatsApp marketing messages is to get the customers to opt in, i.e., the customer needs to consent to start a conversation with any business. Brands can use every (yes!) communication channel to get an opt-in from their customers.
Download our report on how JioMart became India's first WhatsApp commerce success story.

All-in-All
Today 75% of customers want to communicate with the business in the same way they communicate with their friends and family- through messaging. WhatsApp has become an essential platform in every brand's marketing strategy. By utilizing the WhatsApp promotional messages, brands can make the entire buying journey conversational and convenient for the customers, improving customer experience, increasing brand loyalty, and achieving higher conversion rates. A WhatsApp chatbot can help brands scale their presence and leverage such exciting new features.
Haptik has powered WhatsApp solutions for some of India's most prominent brands, such as Jio, TATA, HDFC, Dream11, OLA, Kotak Mahindra, etc. We're a recipient of 15 G2 badges and recognized by Gartner and Opus Research. With handling over 4+ Billion interactions, we're India's largest Conversational AI company!
---
Are you interested in implementing a WhatsApp Chatbot solution for your brand?