Say Hello to Jio Fiber's WhatsApp Chatbot
Overview
Jio Fiber is a fiber-to-home internet broadband service that sought to offer seamless support to its existing and potential customers. It partnered with Haptik to build a WhatsApp chatbot that would empower its customers to self-serve, reduce the resolution time and offer an enhance customer experience (CX) overall.
Challenge at Hand
Haptik is renowned for its tech expertise in helping brands like Jio Fiber offer enhanced customer support and cater to their customers' most pressing needs. As Jio Fiber's partner, Haptik had several key challenges to address, including:
Provide faster resolution to routine queries that would help enhance CX.

Free up customer service agents and allow them to focus on addressing more complex queries.

Enable a seamless experience and alleviate costs by deflecting 70% of top call driving queries on chat
How Haptik Offered a Solution
As the world's largest WhatsApp chatbot provider, Haptik has a vast track record of helping brands across industries improve their operational efficiency along with accomplishing their key business goals such as improving customer satisfaction, reducing costs, and more. Its WhatsApp chatbot solution for Jio Fiber helped the internet broadband service provider in the following ways:
Create a new channel to handle customer support with high degree of expandability.

Automate users' most repetitive queries on their preferred channel of communication.

Minimize the dependency on call centers and thus reduce costs.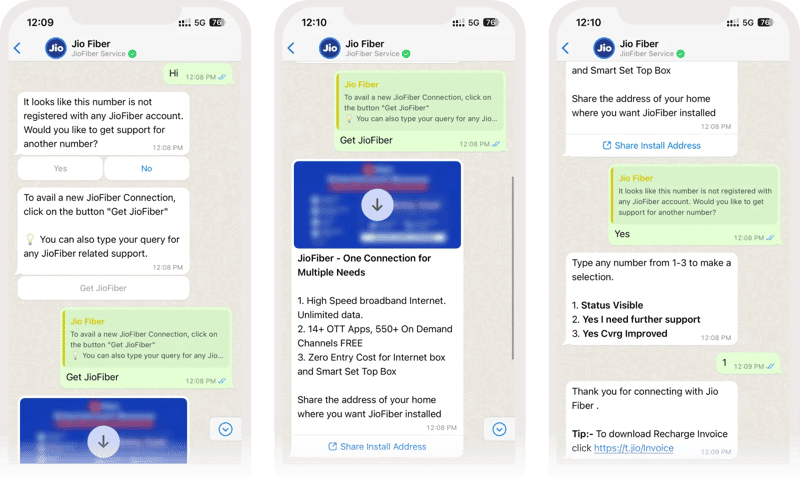 Results
Jio Fiber's collaboration with Haptik to create their WhatsApp chatbot has proven to be a game-changer for the company. With over 243K+ conversations driven and more than 32,000 man hours saved, the chatbot has delivered an astounding 13x return on investment (ROI). Most importantly, the chatbot has allowed Jio Fiber's customers to get their queries and concerns resolved quickly, all through a simple chat interface. By prioritizing the customer experience with their innovative chatbot, Jio Fiber is setting the standard for excellence in the telecom industry.