Hathway Enhances Customer Retention Through Haptik's AI-Driven Chatbot
Overview
Hathway Cable and Datacom Limited "Hathway" part of Reliance Industries, is one of India's leading cable broadband and cable television service provider. The emergence of COVID-19 led to an increase in the number of customers using Hathway's digital platforms, including their app, self-care portal, and website, to raise queries, complaints, and requests. To improve customer experience and response times, Hathway collaborated with Haptik to create a chatbot called DIVA, which was integrated into the app, self-care portal, website, and WhatsApp.
2.7M+
Conversations Handled
98.3%
Issue Identification Improved
60x
First Time Resolution Improved
Haptik is a key partner for Hathway because they are driving real innovation in Conversational AI. Their AI platform is transforming the way we think about fostering meaningful digital interactions and customer engagement.
Challenge at Hand
A lengthy process to analyse and answer customer queries resulted in slower response times, delayed resolution, and higher costs.
Hathway wanted to improve the ticketing system and reduce the customers' wait time in the process.
The aim was to reduce the first-response time and provide instantaneous query resolution,Hathway wanted to offer round-the-clock FAQ resolution to increase customer satisfaction.!
The expectation was to see an increase in lead and building a sales pipeline.
How Haptik Offered a Solution
Hathway collaborated with Haptik to create DIVA, a chatbot designed to improve customer service and response times. DIVA was deployed on Hathway's app, self-care portal, website, and WhatsApp with the aim of substantially enhancing the overall customer experience.
The chatbot handles automatically creating tickets for unresolved issues and offering on-demand support.
The bot is also responsible for managing marketing initiatives, including sharing offers and promotions with existing users, as well as capturing leads and building a strong sales pipeline.
It is also possible to renew customer accounts by integrating with payment gateways in this system.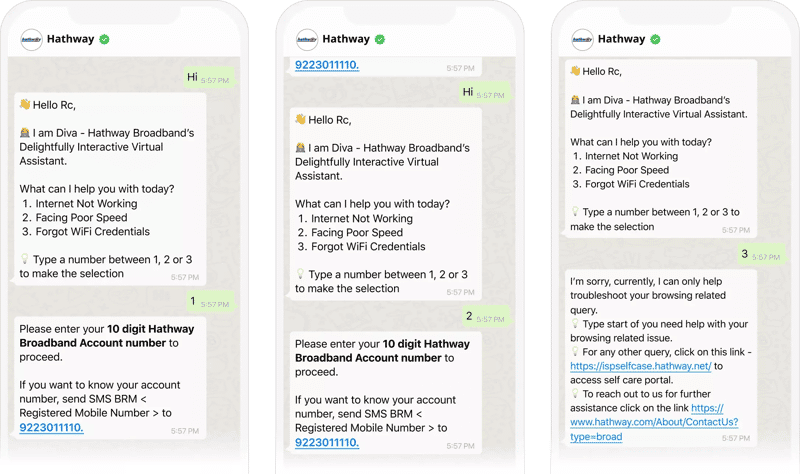 PLATFORM
App, Website & WhatsApp
USE-CASES
Customer Engagement, Lead Generation
With Haptik we were able to bring speed and efficiency to our customers, improve customer communication and deliver the state-of-the-art digital experiences that achieve impactful results.
Results
Hathway and Haptik's intelligent virtual assistant provides users with instant support and quick query resolution, as demonstrated by Hathway's impressive 60X increase in first resolution time. The multi-platform chatbot offers several features to users, such as automatic ticket creation, on-demand support, lead generation, and customer account renewal. Hathway and Haptik continuously analyze user analytics to identify new use-cases and implement them across various platforms.