Introduction to Product Design Team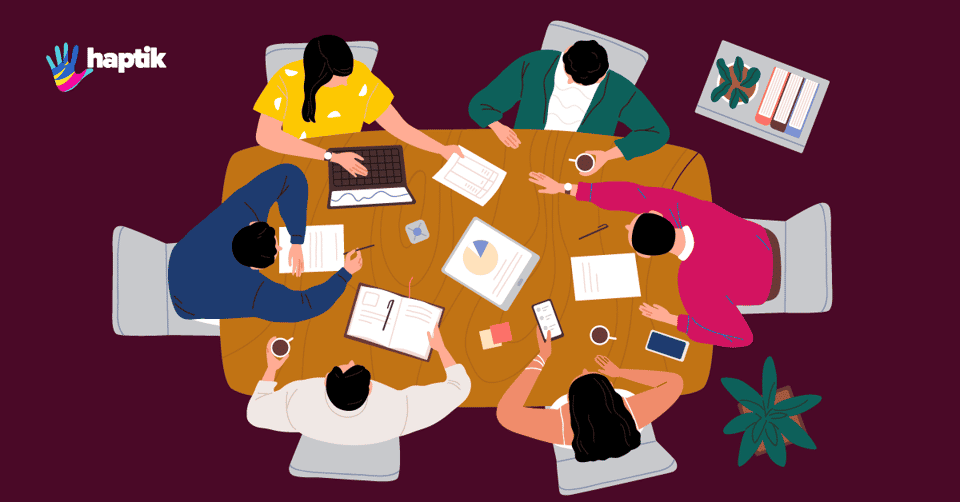 People today live in conversations - WhatsApp, Instagram, and Messenger are dominating our everyday lives. So how do businesses and brands communicate with their customers, providing them with the tools to help solve their customers' grievances?
The Haptik Design team is dedicated to making platforms that enable our businesses to effortlessly acquire, convert, engage and delight their customers across 20 channels! Follow along as we give you a sneak peek into the team, the problems we are faced with, and our holistic approach to solving them.
A diverse team for refined problem solving:
Our design team is composed of 8 exceptional and distinct humans. Our talents span design and research, with contributors focussing on end-to-end product design, qualitative and quantitative research and more! Sharing below more about our team members so you can get to know us!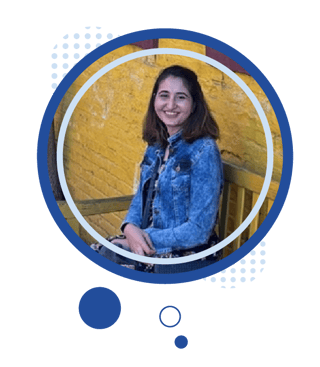 Hi! I am a designer who heads the product and conversation design teams at Haptik as the Design Manager. I have had an interesting design journey. I started off as a software engineer, worked then as a marketer, and having a creative bent of mind; Design allowed me to combine all aspects of these. I have been a designer for over a decade now, and along the way, I realized that the best aspect of design I enjoy is the human aspect. Product design, at the core of it, has Users surrounded by stakeholders and the team creating and building design. From research to analysis to design to development and shipping and use I have seen that design works only if the collaboration between people creating the experience is seamless.
As a Design Manager, I enjoy the people management aspects of it. To build a great team, one needs to carefully assess the kind of work culture you want to build and the rapport they have with each other and with their manager. I enjoy the challenge of being able to mentor, guide, and nurture young designers who step into this world and put in their passion to design while navigating a corporate world.
Apart from design, I love other creative pursuits. I am a fantastic cook and an average watercolor artist. I enjoy fashion and makeup as they are creative ways of expressing myself. I also enjoy aquascaping and DIY stuff as well.
Shahnawaz Alam, Product Design Lead
​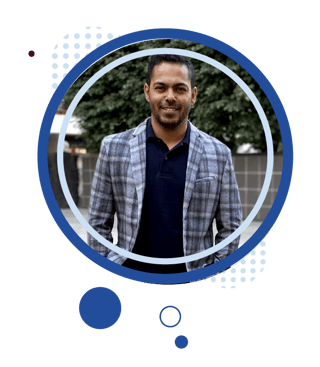 I am a designer, currently working as a Product Design - Lead. Before this, I was working with Wingify for their flagship product, VWO. I have also worked with UrbanClap, Jabong, and a few other great startups.
I started my career as a graphic designer, and a few months later, my constant effort to make designs that lets the audience behave in a certain way got me promoted to creative designer - focusing on cracking concepts for ads and getting them polished by graphic designers.
To be frank, I wanted to become the next Alyque Padamsee - creating legendary characters like Lataji of Surf. But soon, I found my new love, which was Product Design. I am glad I did.
As a lead designer, I spend a lot of time talking with my team members to understand what motivates them (or doesn't) to do the job I intend them to, more importantly, the one they signed up for. Document conversations to see how environment, situations, and other team-related, organizational factors influence them to do something good vs great (or not do it at all). Train them to ask the right questions and take decisions on their own.
I keep at least one time-sensitive design project for myself because I don't want to stop designing, ever.
Apart from being a designer, I am a father, and a husband and my superpower include changing diapers in less than 30 seconds and uplifting my wife's mood in less than 30 minutes. I love designing home interiors and small garden spaces. I am a hardcore motorcycle rider and a gym freak.
Pulkit Madan, Senior Product Designer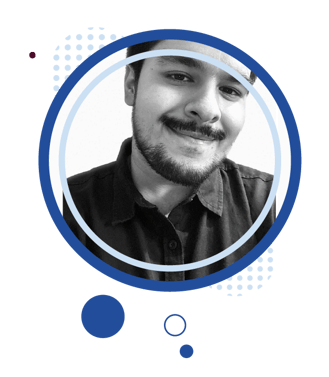 "Design is not just what it looks like and feels like. Design is how it works." And that is all that I am about. Hi, my name is Pulkit and I am a senior product designer here at Haptik. Currently, I am running the analytics pod here since I love the challenge of designing around data and making sure it provides not just a metric but the whys and hows behind it! I have been designing for the past 7+ years, starting from the photoshop era! My interests lay more on the user experience end of the design as I love to connect with the users and try to solve the problems that can make their life easier. Apart from design, I like to read books and play lawn tennis, and you will always find a Rubik's cube in my bag! Oh, and I also love to keep learning new things.
Being a self-taught designer, I started quite early. My first interaction with design or, to be particular, animation was when I was in 8th standard. And that is when I got hooked on the whole concept of designing and coding stuff. Starting with Macromedia flash, I got to learn the basics of animation and then made a quick switch to the hots of that time; Photoshop. Fast forward in time, I started to explore and work with different clients and different styles across the globe and got to learn and fail a lot. After a few initial years in the user interface, I made a switch to user experience and got to know the whys and hows behind the design. And trust me, that part is addictive! And so I got hooked on it really fast and got my opportunity to work with different organizations throughout the years, either full-time or as a consultant. My recent work revolves mostly around data, so it was the icing on the cake when I got this amazing opportunity to join Haptik as a Senior Product Designer to work on the analytics platform.
Bhakti Bhikne, Product Designer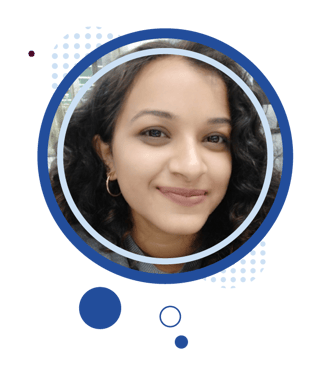 Based out of Bangalore, I started my design career in 2017 as a design researcher. Currently, I am working on the Conversation Studio and exploring a new product line here at Haptik. Outside design, I spend a lot of my time experimenting with new foods and exploring travel destinations.
I got introduced to design during my computer engineering course. My first design work was for Fedora, post which I worked as a design researcher at IDC, IIT Bombay. My time as a researcher has been pivotal in my design career and is one of the major driving factors in the way I work and look at design.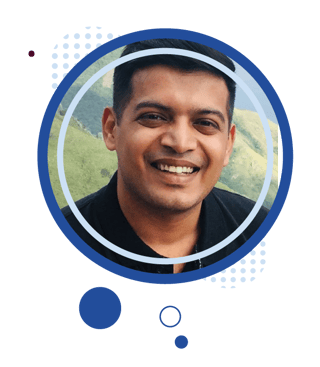 I am a seasoned product and user researcher with experience in UX Research, CRO, and setting up UX Research processes.
I am skilled in user research, information architecture, design strategy, user experience design, and usability testing. I have an eye for detail in speculating and understanding digital interfaces and products and connected interrelated domains.
I am an outlier here as I am a UX Researcher. I've dabbled my feet in multiple fields, majorly to find my calling which I've found at last in UX Research. I have been working in UX Research for the past 4 years starting with Quantitative Research and then moving on to more Qualitative methodology-based Research. My Passion is to connect with people and understand their thought process and how it aligns with their goals which further helps in designing products that enhance their life.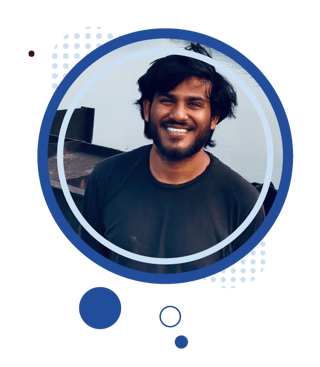 Hi, this is Giri Poonati. Based out of Hyderabad. Here at Haptik, I'm working on Interakt's product design. Along with the design, I love to explore various places and go on off-road biking.
Right from early on, or more specifically from college times, I developed a certain love for building products and making stuff, which eventually brought me into the design. So started off designing on own products (or say startups :D) and then, later on, joined a team of people as a solo designer who w wereorking on traffic congestion problems in metros and building on a carpooling product. After a good stint of time here, I am at Haptik designing an end-to-end WhatsApp Business solution product.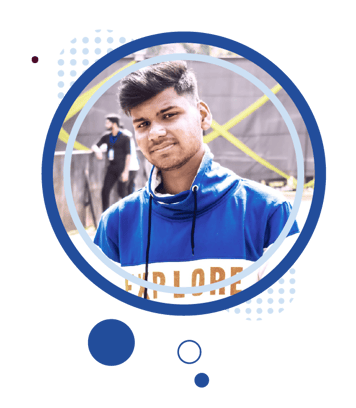 Learning is a constant process that keeps you pushing forward. Hi, I am Aditya, currently working as a product design intern here at Haptik. With each new project and design I do here at Haptik, I learn a lot of new things and take the next step of my design journey, which has begun recently. When not designing, you will find me playing football or perhaps reading a good book.
During my bachelor's, I started learning front-end developing and working on creating different websites. During my search to make the look and feel of my work better, I came across UI/UX and started exploring what it means. I started by randomly using Figma to create designs to then learn more about each part of UI and UX through various courses. My internship here at Haptik has helped me get a lot of hands-on experience and deal with the challenges a designer faces on day to day basis, which has helped me a lot to grow into a product designer, which is my next destination.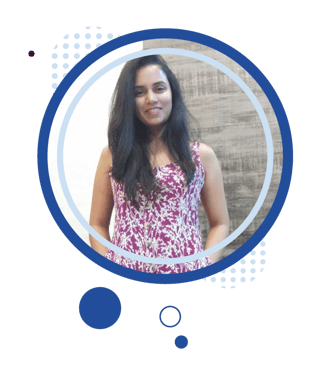 Hello, my name is Aditi Agrawal, and I'm based out of Nagpur. I'm working as a Product Design intern with Haptik's Interakt team. Apart from design, I have a strong passion for baking and enjoy creating various pastry dishes.
I've explored a variety of fields in search of my calling. I completed my bachelor's degree in hotel management (which explains my love for baking :D). Following college, I began working at our family's travel business, where I was introduced to product design. What piqued my interest was developing aesthetically creative solutions for users in order to improve the user experience.
I'm growing as a designer every day since joining Haptik; the knowledge and confidence I'm gaining are helping me lay the foundations for my design career.
If you have made it this far, I really hope you liked the team, in case you want to join us.
This will be just about the Haptik Design Team, and there is nothing particularly different about this design team compared to any other design team in the tech-product ecosystem: we want to retain the very best performers, give great critiques, share assertive and constructive feedback, and build a psychologically safe and trusting environment. That being said, I am happy to introduce The Haptik Design Team to you all.