How Voice Chatbots Boost Customer Experience In Telecom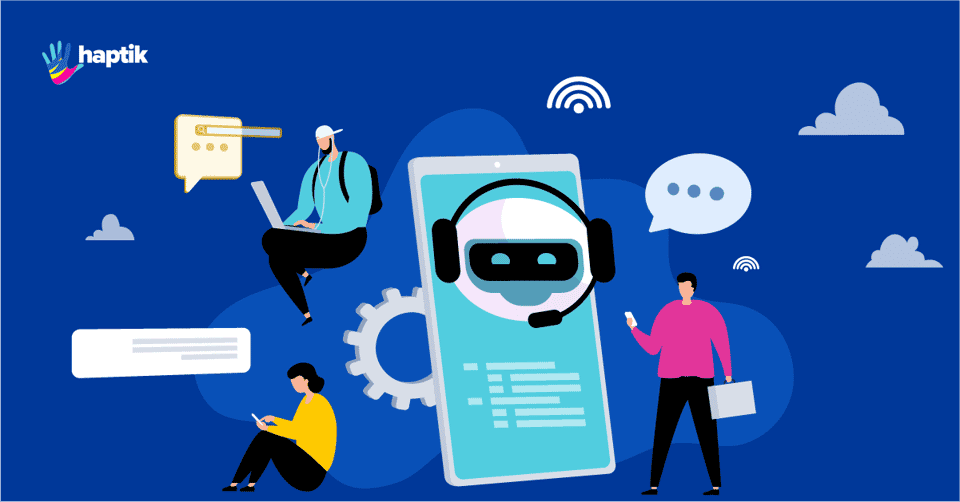 Voice chatbots are designated by almost all industries and business enterprises to handle multiple aspects of their undertaking such as customer service, product suggestions and ordering, business process improvement, scheduled meetings, etc. These chatbots are an innovative breakthrough in the telecom industry too, where catering unruffled service to customers is a predominant obligation. Moreover, In 2019, telecommunications stood second last in customer satisfaction rankings because the lack of consummated communication was one of the biggest challenges then. With the manual procedures, customers had to wait for long hours to route their complaints to the relevant department.
Nowadays the voice processing chatbots, powered by artificial intelligence and machine learning, make the experience much simpler for customers. Around 16,000 interactions are handled by one single bot which eventually improves the customer service in the telecom sector. These conversational chatbots assist the customers virtually by resolving their grievances in a more refined and personalised manner, and liberate them from the web of excruciating waiting games. The customers who are reluctant to interact on phone calls, the chatbots address their issues via messaging platforms.
Learn more : IVR Deflection vs Conversational IVR: How to Improve Customer Satisfaction
Why does the telecom industry need Chatbots?
The telecom industry as a whole is majorly influenced by the quality of customer service delivered by service agents. A telecom company needs to provide proficient customer services to develop customer loyalty for its brand. However, it is an accepted and acknowledged fact that responding to all customer queries without delay is an immensely challenging task for telecom companies. To dodge through the inexhaustible pile of tickets and queries, AI-based chatbots come to the rescue. Chatbots are an important investment for telecom operators to address such challenges and here's why the industry needs them.
Provides services to thousands and even millions of customers: With an ocean of customer base, the telecom operators try their level best to narrow down customer churns. The industry gets loads of boiling complaints every day from the customers. It becomes very strenuous for the service providers to handle so many grievances instantaneously. The AI-authorised chatbots are able to administer and resolve them systematically. Chatbots implement simple and individualized consultations for the customers and thus ameliorate their agitations.
Receives several repeated requests and complaints: Chatbots have enhanced the scope of self-service for repetitive customer queries. With advanced AI technology, machine learning, and natural language processing, the persistent telecom queries are settled swiftly resulting in a delightful customer experience. These chatbot services account for the profit of millions of dollars every year for telecom companies.

Needs to provide 24/7 customer service and is required to have enough human resources to support the service. Chatbots are capable of providing uninterrupted services, especially during situations of limited manpower. The chatbots perform their duties throughout the week irrespective of holidays or the weekends. These advantages facilitate the smooth functioning of telecom companies by ensuring faster management of customer hassles. However, enough human resources are also required to speculate the unhindered potency of the AI chatbots and also act as their backup for receiving redirection for any unusual issues.

Deals with the customers who like self-service and have a higher chance of resonating with chatbots. According to the statistics of International Business Machine (IBM), 56% of telecom customers prefer the self-service option to select the best plan and 77% of the customers choose self-service for bill payments and recharging their accounts. This data implies that executing an efficiently functioning self-service option will lead to better resonation with the customers. There is no better alternative than chatbots for this agenda. Through chatbots, the customers can communicate their service requirements as per their convenience and, with options to interact via texts or over phone calls.

Provides room to expand sales and expansion strategies. Most often, customers disconnect the call received from telecom service providers. Using chatbots, companies can avoid these communicational disruptions and establish an uninterrupted communication platform. Keeping an account of customers' past conversations and their preferences, helps chatbots to anticipate customer behaviour and augment appropriate strategies accordingly. If customers do not wish to respond to calls, then they can be reached out via other means. . The chatbots streamline these communication platforms to meet the expectation of each customer.

Provides a platform to establish uninterrupted conversations with customers and also provides them with an omnichannel experience with personalized services accordingly. Indulging customers into personalized interactions yield beneficial results in the telecom industry as there is a wide range of products and services that the customers might be interested in. Chatbot services are not limited to just resolving customer complaints. They also engage in offering profitable deals to their customers, assessing their subscriptions and reviewing their payment records, and send reminder notifications to the customers in case of pending payments. Chatbots serve as good listeners to customer complaints and understand their demands better and accordingly provide individualized information in a secured process.
Case study: How Starhub - Asia's 3rd Largest Telco Elevated Customer Support with Haptik
How voice chatbots can add value to the telecom industry?
Improved customer experience. Customer interactions are evolving and emerging every day. Catering only through phone call service is neither adequate nor affordable. Making customers wait for a long time on call can be agonising and can have a negative impact on the company's image. Conversational bots can sort out these problems by attaining to numerous problems at a time, thereby improving customer experiences. 24/7 customer assistance of the chatbots yield positive results by providing ease of access to information to the customers, reduces their waiting time, delivers quick response, offers individualised interaction and many more. The AI-based chatbots also use predictive computations based on the customer's last few activities on the internet and comprehend the issues. By doing so, the bots are able to resolve the queries quickly and satisfy their customers.

Save up to 90% support cost. AI chatbots can be assigned with a lot more responsibilities ( by volume) than human employees. This can contribute to overall cost reduction that may be required while appointing and managing the Customer Relationship Management (CRM) workforce. The chatbots save the cost incurred on the CR executive, thereby cutting down the overall expenditures. Unlike manual workforce, AI chatbots are capable of serving customer requirements effectively without taking any break. Moreover, they can sharpen their resolution calibre through machine learning and account for minimal maintenance costs which is much lower than manpower cost. The AI chatbots are capable of handling multiple tasks parallely and do not require any change of shifts. The telecom companies, with such adoption, can reduce the huge customer service costs as the chatbots do not require huge amounts of investment. This cost efficiency advantage of chatbots also accords to transferring of profits to other departments and escalating customer retention

Solve technical issues. Sorting out the technical glitches of the customers is yet another major concern addressed by chatbots. AI-enabled chatbots or voice chatbots reduce human interference to a great extent and handle the repetitive yet complicated issues all by itself. Usually, the complaints pile up regarding poor connectivity of the internet which might occur due to numerous esoteric circumstances. Chatbots can be made competent to identify the root cause of these errors and resolve them quickly. However, if still, the problem persists the bots forward the complaint to the staff of the technical department.

Improve workforce productivity. Chatbots can increase the framework of workforce productivity through their ability to perform multi-tasking, resolving repetitive queries, sorting out time-consuming issues quickly and many more. Chatbots are mostly engaged to address the complex grievances of the customers. They are also assigned with other significant responsibilities such as training the existing employees of the telecom company to cater to complex queries, regulating back-office undertakings, etc.

Boost business opportunities with intelligent prompts. The fierce race among the telecom companies often results in customers switching from one service provider to another. Customer conversion and efficient interaction with them is therefore a significant policy to expand the business. Primary procedures for revenue generation are sales and collections. AI-enabled chatbots prove to be one-in-all devices when it comes to the handling of cross-selling, or up-selling. The bots verify whether a customer is likely to make payment at a time or not, efficiently attend to individual customers, develop context awareness, thereby refine the customer experiences and boost the inflow of profits.

Improve customer retention with omnichannel The omnipresence of the telecom companies makes all other value-added services dependent on them. Along with internet service, the telecom services assemble suggestions of gaming, movies, web series, songs and others for the customers. The AI-based chatbots assess the customer's search history and based on that information provide a series of relevant suggestions which include the type of games the customer might choose to play, the particular genre of movies or the kind of songs the customer would prefer to watch and listen to. These measures help to boost the number of loyal customers.
Here's how we enabled customer support automation for the World's 3rd largest Telecom
How AI chatbots or voice process chatbots are changing customer service in the telecom industry:
Today more than ever, given the high risk of customer agitation, telecom service cannot ignore customer experience. That is where an AI-powered chatbot or voice bot comes into the picture to help the severely overburdened contact agents. Today's conversational AI chatbots have evolved to drive human-like conversations at scale, understand the context, and hence resolve calls faster, more affordably , with a better customer experience.
In the telecom industry, chatbots can revolutionise customer service without any human intervention by"-
Reducing waiting time: Unlike human operators, chatbots being software is capable of efficient multi-tasking and can handle more than one customer grievance at a time. It can solve numerous problems simultaneously without making the customers wait for redirecting their call to any specific operator. Chatbots provide instant solutions to customer complaints, rendering them a better experience.

Redirect customer requests to appropriate departments. Telecom companies can hire a number of chatbots to work as their front desk operators. Thus, they can be the primary respondents to the customer queries. The chatbots provide a detailed set of options to the customers for superior interpretation of their grievances and forward the complex issues to the appropriate departments based on their skillset and chat loads.

Collect customer feedback. A feedback request processed by AI chatbots receives a better acknowledgement from customers as they can respond according to their convenience. They channelize their feedback procedures mainly to the existing customers to familiarise with their experiences.

Facilitate smooth and transparent communication. The conversation bot gathers basic information about the customer's complaint, which encloses details like whether the person is a new or existing customer/ whether they possess an individual or a corporate account/ their account number/ whether their issue is related to general information, finance, technical failure, etc. or other issues such as slow connection, overcharged or others. Based on these data the chatbot resolves the simpler issues and redirects the complicated ones to the operators.

Overcome language barriers. With the help of machine learning the AI chatbots interpret the natural language and the tone of conversation in which customers feel comfortable to interact, thereby invigorating a smooth communication technique.

Provide omnichannel service. Enabling customers to communicate through other channels such as Whatsapp, Facebook or messenger, along with phone calls boosts the interaction process.

Boost conversations. Chatbots collect information from chat history or internet history to interpret the customer behaviour and provide relevant information, deals and offers to make the customer feel prioritised.

Streamline bill payments. AI-powered bots forward automated messages of the bill payments to the customers through their preferred channels providing them with the options of 'pay now' or 'pay later' and the mode of payment. On further delay of payments, they give automated calls to the customers extending the same options. The chatbot oriented bill payments reduce the risks of accounting errors and plug the revenue leakage.
Check out our new handbook on Customer Service Chatbots: Swift, Seamless, AI-Powered Support
Things to consider while implementing chatbots to your telecom business:
Software: Acquire a software platform that helps you in developing a chatbot either on itself or through integrations.

Intelligence Level: Use machine learning and AI to develop a chatbot that does more than answering standardised questions.

Organisational Support: Consider resources available in other internal departments like finance, operations, especially IT to support your chatbot.

Chatbot scripts: Build better scripts and include some personality so that your chatbot stands out.

Feedback: Seek customer feedback to make your chatbot interestingly interactive.
To ensure customer acquisition and retention it is important for the telecom service providers to embrace the latest technology and leverage it to improve their work efficiency. The AI-based chatbots can be an asset to your telecom company as it can escalate your business and assist you in facing market competition by giving an edge over other brands.
---
Want to develop an Intelligent Virtual Assistant solution for your brand?