Haptik: The School of Dreams

This article has been penned by Yogesh Lad, Lead Analyst at Haptik.
Since childhood, there have been a couple of factors that have shaped my life.
I have always been this active, naughty kid, curious to know things. I was always very interested in observing things and learning how to do them.
In addition, growing up in a middle class family means early responsibility. My mom and dad have worked very hard for the family and I grew up noticing all of it. Being able to take care of them as they took care of me is my biggest motivation.

Before getting into Haptik – I had given 7 interviews at a Call centre. But that did not work out. When I was coming back from my last interview I had promised myself- I will never ever go to a BPO.

I guess It was one of the best decisions I had ever taken.
The Haptik Journey Begins
My journey with Haptik started, funnily enough, because of a Goa trip for which I wanted money. I felt it was time for me to get a job and pay for the trip with my own money.
So, on 7th May 2015, I gave the fateful interview that started my journey with Haptik.

Back then everything was very different. To begin with, we were still at the old office. Our Co-Founder & CEO, Aakrit Vaish, was still part of the Induction. I remember thinking how cool it was that the CEO himself was taking Induction!

Things at Haptik tend to progress at lightning speed. I started work on 11th May 2015, just a few days after my interview, and was assigned to work with the Live Agent Chat tool.
Having good teachers is as important at work as it is at school.. Trust me, Haptik has always been great in the selection of teachers. Sanjay Gupta, Sushank, Brijesh Sahoo, Dhanali Kar, Ashim Jolly, Sneha, Dipti Nimbre, Apurva Mudgal, Nishant Nadar, Tejas Pawar, Musa, Parikshet Mendon, Hiren Karakasia, Ajay Lulla, Joanita Lawrence – they've all been a tremendous source of guidance and support.
Of these teachers, I would like to give a special shout-out to the three who've been the biggest influence on me personally – Parikshet Mendon, Hiren Karakasia and Nishant Nadar.
Things Change
Time flies fast in Haptik, and before long, I went from being a rookie learning-the-ropes to being promoted to Team Leader. From having to commute by train and walk home from the station, I now had my very-first bike – an Activa!

The journey has started and there was no looking back no matter what.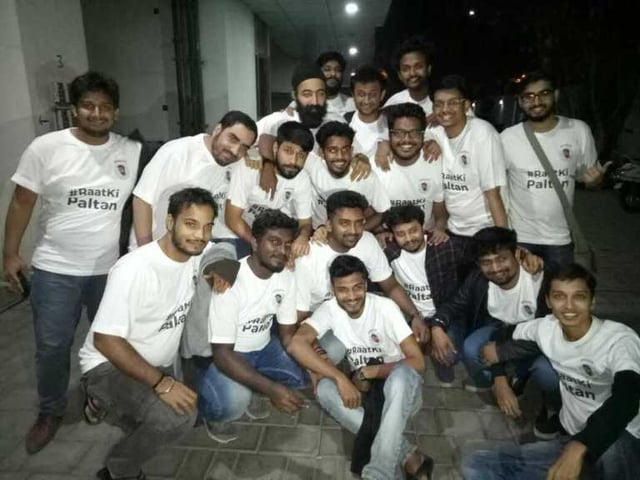 Even as I grew personally and professionally, I saw Haptik grow as well. When we moved to our new office, it felt like a whole new world opened up. We went from fighting over PC's in the old office to having desks of our own! From fighting over coolers to being in a furnished, air-conditioned office. From shorts to wearing office clothes. From having no understanding of how the system works to having a 20-30 member IT support team.

And last, but not least, – seeing Ahmed chacha every morning (which never fails to bring me joy!)
As you grow, responsibility increases. Things sure got crazy! The learning never stopped, as I kept being thrown into new experiences. From just handling customer queries on the Haptik app, to now also carrying out transactions for their users. It was a time for all Haptikans, through their efforts, to proclaim to the world – We have arrived, and we're here to stay!
An Exceptional Team
If Haptik has been a school of dreams for me, then it's largely because our exceptional team are the best teachers one could have, especially early in one's career. This starts right from the top – with our Co-Founders Aakrit Vaish and Swapan Rajdev never failing to lead by example. Their determination and sheer hard work is what has taken us from a personal assistant app to one of the world's largest Conversational AI companies.
I have seen days where Aakrit came online to chat on every channel to check if everything was working fine. Apurva Mugdal not leaving office if something went wrong. Ajay and Parikshet came in at 4 AM to sort things. And of course, the healthy and supportive rapport that Team Leaders had with their Quality Analysts.
The shift from B2C to B2B was challenging for all of us, at first. I'll always be grateful to Parikshet and Hiren for helping me transition to a new role, and continue my Haptik journey into a new era.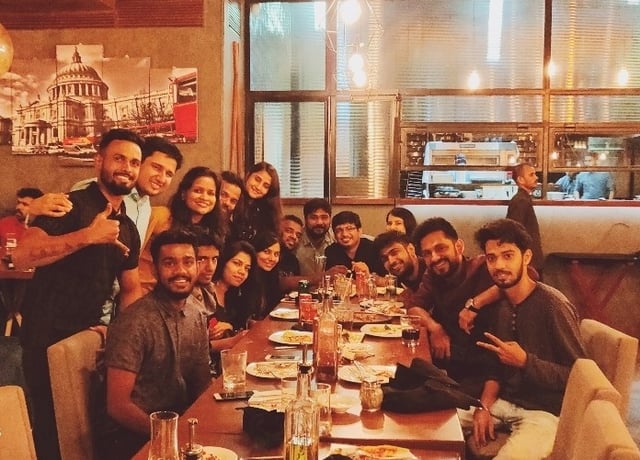 When I was moved from the Operations to Enterprise team by Parikshet, I initially had no clue how to go about things. But it opened up opportunities I never dreamed of. For starters, I worked with Swapan to help onboard enterprise clients. Working closely with one of the company's founders was an experience unlike any other! In stark contrast to the stereotype of the egoistic tech guru, Swapan is a true gentleman who's as compassionate and empathetic as he is smart! I could not believe I was working with someone who is so intelligent but has zero ego. It was definitely a thrilling experience!
Around this time, I found yet another great teacher in Shrey Jain. And after Shrey left Haptik, Nameer Khan and Jatin Parekh became my mentors. That's the best part about Haptik – people change, but the learning and the growth never stops.
I still remember the first time I saw our Agent Chat, Dialog Builder and Analytics tools. The extent to which they've evolved over the years is truly a testament to the phenomenal work our Machine Learning team has done!
Highlights of the Haptik Life
You will hear this from every individual working here (or, as we like to call ourselves, "Haptikans"!) – Every day you come to work at Haptik, it's a new beginning. No two days are ever quite the same. I don't think I would be able to work at a place where there wasn't something new happening all the time, and fortunately for me, Haptik always has more than enough going on to keep me on my toes!
Here are a few of the highlights from my ongoing Haptik journey-
1. Meeting brilliant people
2. Haptik's awesome culture
3. Working in the Night shift during the early days
4. The company offsite in Goa
The last one is very special to me in particular. If you recall, I originally joined Haptik because I needed to fund a trip to Goa. So Haptik taking us all on a trip to Goa (my first time in an airplane!) brought me full circle and remains one of my most cherished memories.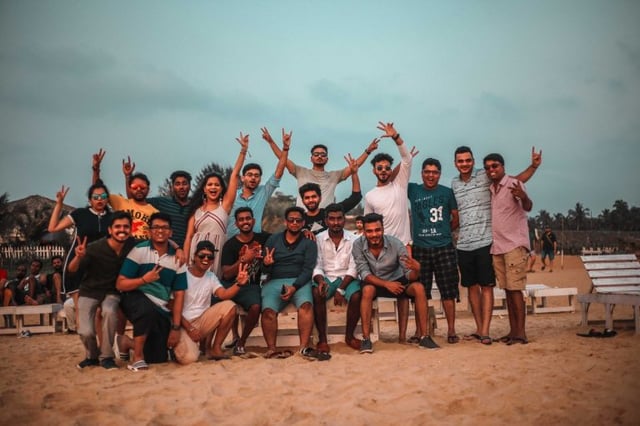 There is nothing more that I can ask for from Haptik. It was and still is truly a School of Dreams.
My Haptik journey continues even as I write this. I am currently a Lead Analyst on our Implementation Team. There's a lot going on, and through all our collective efforts, we will ensure that one day, Haptik becomes the world's greatest Conversational AI company!
Interested in joining Team Haptik? Visit our Careers page to view open positions.