Buka Gurgenidze-Steinau VP of Cognitive Solutions | Haptik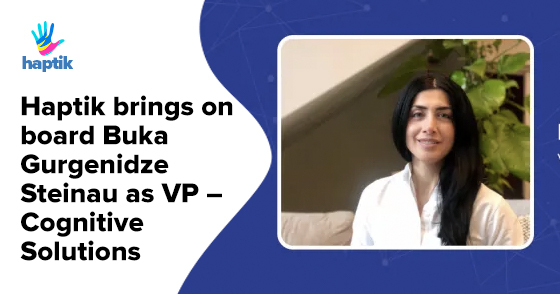 New York, September 19, 2019: Haptik, a subsidiary of Reliance Industries and one of the world's largest conversational artificial intelligence (AI) platforms, today announced that Buka Gurgenidze-Steinau is joining the group as Vice President of Cognitive Solutions. Buka brings over 5 years of experience at BlackRock, where she was part of the Cognitive Solutions team. She was responsible for managing tools that focused on conversational AI and RPA.
At BlackRock, Buka developed cognitive agents that were designed to deal with complex industry-specific knowledge at scale. Unlike basic chatbots that can only process one request at a time, these cognitive agents were able to process multiple intents in one utterance to increase productivity through AI across the company's global footprint.
At Haptik, Buka's key focus will be enhancing the company's existing Intelligent Virtual Assistants in order to address the needs of the banking and financial service sectors.
"Thanks to her unique work building AI solutions for BlackRock over the last five years, Buka brings a keen understanding of the needs of both the client and the customer," said Timothy Carey, Haptik's General Manager, Americas. "Buka's hands-on insight of AI in the financial sector will be a great addition to Haptik's North American efforts.
"Haptik has done some brilliant work in the field of conversational AI," said Gurgenidze-Steinau. "It is one of the few companies to have successfully made the transition from domestic to international markets, simply based on their impressive performance and diversified product portfolio. And I believe this is the most exciting time to join Haptik as they are expanding rapidly."
Buka earned her Master's degree from Columbia University. While pursuing her Bachelor's degree she was part of the special envoy project to Oxford University. Buka was born and raised in Tbilisi, Georgia and is fluent in English, Georgian and Russian.
For media inquiries please contact hello@haptik.ai
---
Are you interested in developing a Conversational AI solution for your business?